The corrections listed below need to be made to the instructions contained in the following books. We will post any more errors as and when we are informed of them. We are grateful to our readers for pointing these out and apologise for any inconvenience caused.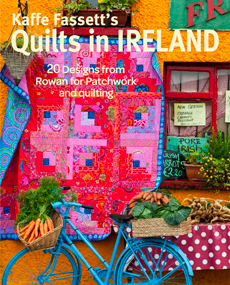 Quilts in Ireland
Persian Carpet p 51
Binding
End Papers Red GP159RD (not Dark GP159DK)
All subsequent references to this code should be GP159RD.
Battenberg p 71
Materials
MAD PLAID
Cobalt BM37CB (not GP37CB)
All subsequent reference to this fabric code need to be as corrected.
Contrast Brassica Snowballs p 75
Materials
BUTTON FLOWER Contrast GP152CO (not Dark GP152DK) 1 3/8yd (1.25m)
(All subsequent references to this code should be GP152CO.
Add yardage for BROCADE PEONY as follows:
Grey PJ62GY 1 3/4yd (1.6m)
CUTTING OUT
Border 3
The strips should be cut lengthwise (not widthwise as stated) and are not joined.
For Borders 2-4 and 5 only you will still need to join sufficient widths of fabric strips end to end to achieve the correct lengths.
Dancing Blocks p 89
Materials
Increase yardage for CORSAGE (all colors) to 1 1/2 yd (1.4m) each.
CUTTING OUT
Template A
Cut 5 flower patches across the width (not 6, as stated).
Floral Plaid p 93
Template A
Do not use this. Instead, the outside setting triangles should be cut so the straight grain is on the outside edge of the quilt. Cut 6 squares each 12 1/2in x 12 1/2in (31.8cm x 31.8cm) and cut from corner to corner diagonally both ways, making 4 triangles from each square. Cut a total of 24 triangles. Use the remaining fabric to cut the Template B corner triangles.
Hourglass p 113
Materials
The total amount of Tree Fungi for the patches and the binding is only 2 5/8 yd (2.4m). (Ignore the additional entry for Tree Fungi on page 114).
Cut the border first and use the leftover fabric for the medium-colored squares and the binding.
Square Dance p 134
Materials
Add the following fabric (used in the centre of the quilt)
PAPERWEIGHT
Blue (GP20BL) 1/4yd (25cm).
Square Dance p 134
Materials
SPOT
Paprika  GP70PP  5/8yd (60cm) not 3/8yd (45cm)\
CUTTING OUT
Centre Checkerboard
Cut two 21/2in (6.4cm) wide strips in GP20BL…(not GO20BL)
ISBN 978-1-63186-857-3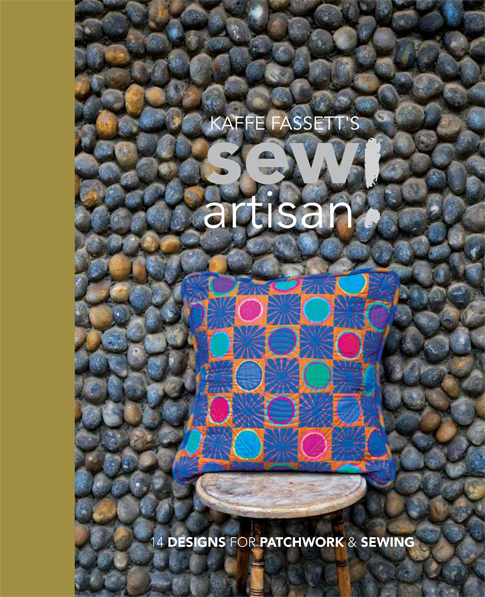 Sew Artisan!
Mughal Garden Quilt p 43
Materials
Embroidered Flower Border
Blue – PWKF01 – 1 ¼ yd (115cm) not 1yd (90cm) as stated.
Pillow Bed p 58
Making the Bed
1 With RS together, stitch the short side….. (not WS, as stated)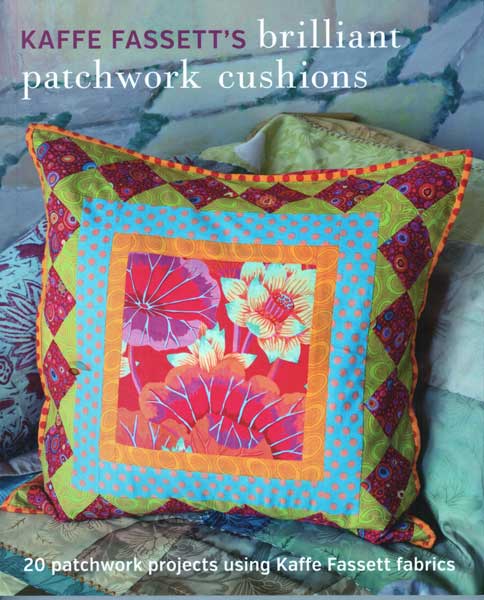 Brilliant Patchwork Cushions
X-factor Cushion p 88
CUTTING OUT
Central block
All the cut pieces should measure 1 ½ in (3.8cm) wide, not 2 ½ in (6.4cm) as stated.
When these fabrics are stitched together using a ¼in (6mm) seam allowance, the template laid on point in step 3 will fit (leaving a seam allowance top and bottom).
Lotus Cushion  p 43 – 44
Materials
P 43 Ribbon – Target 1 ½ in (4cm) wide Purple  2yd (1.85m) not 1½yd (1.4m)
p 44 Borders
From Target purple ribbon: cut 2: 15in (38cm) lengths; cut 2: 18in (46cm) lengths, not 12in (30cm) and 15in (38cm) as stated.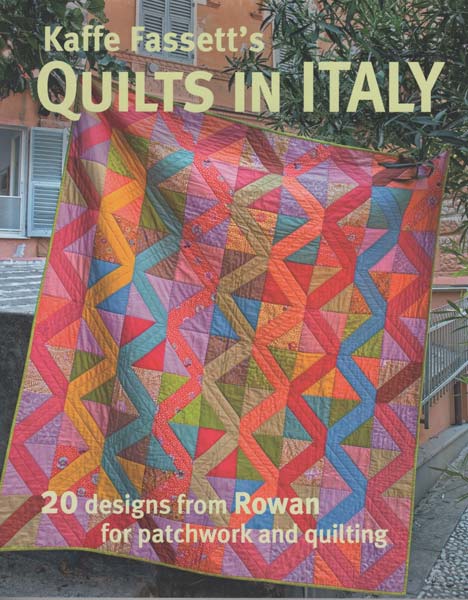 Quilts in Italy
P141 Template Y for Cool Zig Zag (p 90) should measure exactly 5in (12.7cm) along each straight grain edge (one side is fractionally longer and the other fractionally shorter in the book).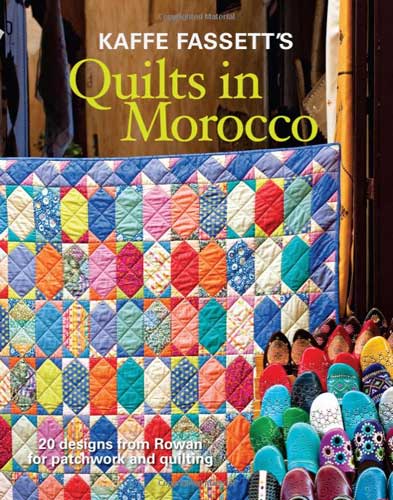 Kaffe Fassett's Quilts in Morocco
Mediterranean Hexagons Quilt p 111
The following fabric was omitted from the Materials list
FOXGLOVES – Cool – PJ10CL – ¼ yd (25cm)
This fabric is included in the cutting instructions and diagrams.
Cayene Quilts  p 123-125
Please follow the following directions in the sections indicated.
CUTTING OUT
Strips for Pieced Blocks
The strips are cut at 5in (12.75cm). The Flame Stripe GP134BR fabric is cut across the width. Fussy cut a total of 8 strips 5in (12.75cm) wide, 4 with dark purple zigzags and 4 with dusty purple zigzags. Try and cut each set so they are as closely matched as possible. The Pebble Mosiac BM42OR fabric is cut down the length of the fabric with the yellow pebbles at one side of each strip. Cut 8 strips 5in x 40in (12.75cm x 101.5cm). You will get 7 strips from a 40in length of fabric so you will need 2 lengths to get the 8 strips. Reserve the remaining fabric which should be approx.. 35in (89cm) wide for the binding.
MAKING THE BLOCKS
Use a 1/4in (6mm) seam allowance throughout. Refer to the quilt assembly diagram and photograph for fabric placement. Make 8 strip sets from a strip of GP134BR and a strip of BM42OR. The yellow pebbles along the edge of the BM42OR should be furthest from the GP134BR fabric. From each strip set cut 4 squares 9 ½ in x 9 ½ in (24.25cm x 24.25cm) as shown in block cutting and assembly diagram A. Keep the squares sorted by zigzag colourway (dark purple and dusty purple).
Take 2 squares of the same colourway and lay them with the BM42OR fabric at the top. Cut the first square diagonally from top left to bottom right, the second square from top right to bottom left as shown in diagram B. Using the 4 cut triangles combine them as shown in diagram B to make 2 pieced squares as shown in diagrams C and D. In the dark purple colourway make 7 squares as shown in diagram C and 6 as shown in diagram D. In the dusty purple colourway make 6 squares as shown in diagram C and 7 as shown in diagram D. Keep 4 cut triangles to fill in the quilt sides.
Trim the pieced squares to 8 ½ in (21.5cm) square using Template VV. It is ESSENTIAL that the marked seam lines on the template are aligned very carefully when trimming (there will be considerably more to trim from 2 of the sides). Also trim the cut triangles using Template WW, aligning the marked seam line as before and stay stitch along the bias edge to stabilize.
ISBN 978-1-907544-88-0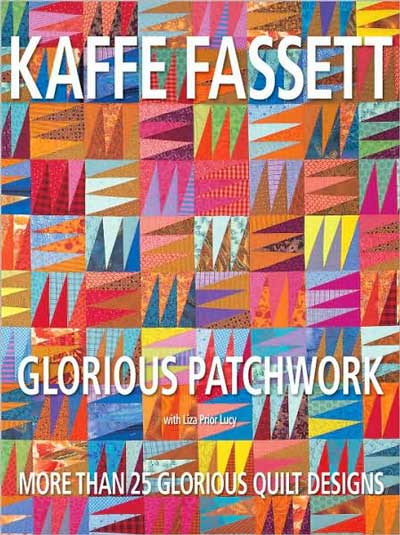 Passionate Patchwork
P124
Ingredients
Handkerchief Corners:  You need 1/2 yd pieces of each stripe to make this quilt. 1/4 yd will not work.