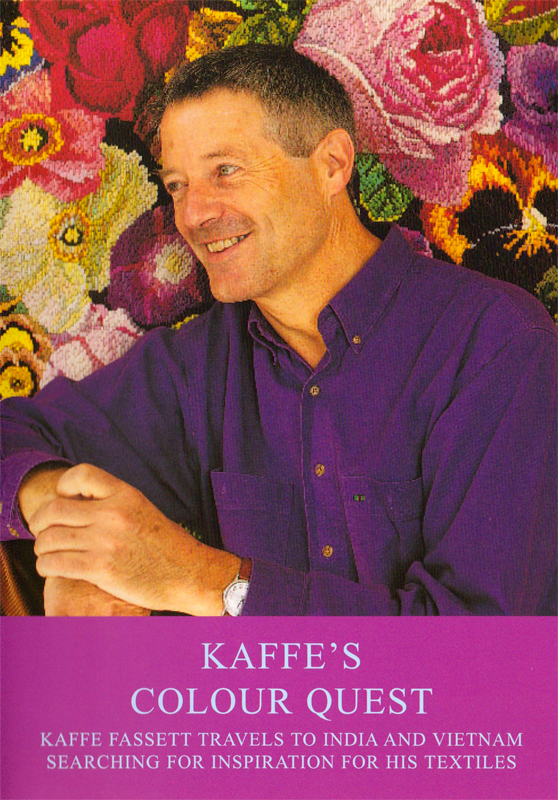 Kaffe's Colour Quest
Kaffe's travels in India and Vietnam now available on DVD
Produced by Brandon Mably
This is far more than a travel video. It shows how Kaffe Fassett, regarded by many as the world's leading contemporary textile designer, draws inspiration for his work from around the world.
Back at Kaffe's studio we see the splendid results of his travels – the needlepoint, collage, mosaic, and paintings which are directly inspired by the East.
Pattern and colour dominate Kaffe's life, and wherever he finds himself, those hungry eyes of his spot unexpected delights, which would pass most of us by: the way a hardware shop is displayed, the patterns of corrugated roofs in a shanty town, the seething jostle of a busy market place. His sources of inspiration are quite original and quite different. Most textile designers rely primarily on museums, nature, and still life compositions for their source material. Kaffe draws on whatever passes in front of his visual radar, and it is this more than anything else that sets his work apart. The extraordinary colour combinations and dramatic use of pattern that are the hallmark of his design can be seen all around us. This is the message of the video and at every stage of the journey Kaffe bombards us with examples. On tour with Kaffe, our eyes are opened to a new way of looking at things and we see ideas for future designs taking shape in his mind.
The two countries Kaffe visited for this video provide a feast of visual stimulations for his senses. In India he guides us from the humblest villages to the most sumptuous palaces, where whole rooms dance with colour and we are dazzled by the intricate beauty of Indian craftsmanship. Collages, textiles and mosaics are discussed, but Kaffe reserves his greatest enthusiasm for the colours and patterns of everyday life: the vivid shades of saris set against brightly painted houses, the amazing decoration of buses and cars, and the stark beauty of the Indian deserts. In Vietnam he sails up the Perfume River at dawn in a flotilla of fishing boats.
It is a magical piece of camera work capturing the silence of early morning and the shimmering pearl grays as light rises over the water. He explores tropical markets and discovers a mosaic encrusted Buddhist temple far from the beaten track. Vietnam is a country that is just opening up to tourists and this fascinating glimpse cannot fail to whet the appetite of the more adventurous traveler. This video brings Kaffe's work to life and will delight his many admirers. 53 min. DVD format.
For more info, please email: kaffefassettstudio@gmail.com.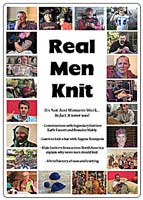 Real Men Knit
Documentary that focuses on men's roles in knitting, past, present and future
Conversations with legendary knitters Kaffe Fassett and Brandon Mably
Learn to knit a hat with Eugene Bourgeois
Male knitters from across America explain why more men should knit
A brief history of men and knitting
If men can cook, garden and change diapers – why can't they knit? Real Men Knit might change your views on this ancient craft invented by men and will introduce you to a wide range of guys who knit – and are proud of it.
It's hard to believe it was men that started the knitting craze! Real Men Knit will take you from the past to present, sharing lots of stories of 'real' men across North America, who are proud to say they knit.
Included in this fun and fascinating DVD are exclusive interviews with some of the knitting worlds most famous men, including Kaffe Fassett, Brandon Mably, and Rick Mondragon.
To find out where to buy this, email us at kaffefassettstudio@gmail.com.