Kaffe spends a large part of his year travelling internationally for his patchwork colour workshops and inspirational lectures. If you are interested in attending one of Kaffe's lectures or workshops, you can find out more below.
Kaffe and Brandon's Inspirational Colour Workshops
About the workshops
Brandon and Kaffe's workshops are primarily about learning confidence in colour choice and placement and are suitable for beginners who know how to use a rotary cutter and sew a seam. They are also for more advanced quilt makers who wish to concentrate on complex colour development.
Things to consider before the class
Brandon and Kaffe want you to choose your own colour palette, so decide whether you want your palette cool or warm, pastel, jewel-toned or dark and brooding. This is your quilt – your choice. Then choose a few fabrics in your chosen theme that you love and want to use. Also, give some thought to the progression of colour and scale you would like to see emanate through your quilt. Bring ½ – ¾ yd/metre cuts of the few fabrics you have chosen.
On the day of the workshop, you will be able to select from a whole range of fabrics through the host shop. Brandon & Kaffe will be able to assist participants in choosing fabrics to use in their quilt. Come to class prepared to try out several options
Please do all of your cutting during the workshop, not before.
Workshop Space
On the day you will have table space for cutting and wall space for laying out your quilt. Remember to bring or buy your mat, ruler and rotary cutter as well as your design wall flannel.
PLEASE NOTE: No sewing takes place during the workshop.
What to bring on the day…
Rotary cutter, cutting mat (at least 12" x 18") and rotary ruler (6" x 12")
Copy of the patchwork & Quilting book specified for the particular class (ask the workshop host if you are not sure)
Fabric scissors, pencil and pins
Optional: reducing glass or peephole
FABRIC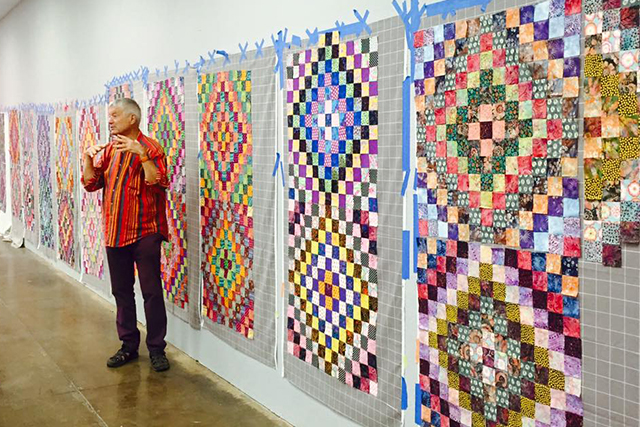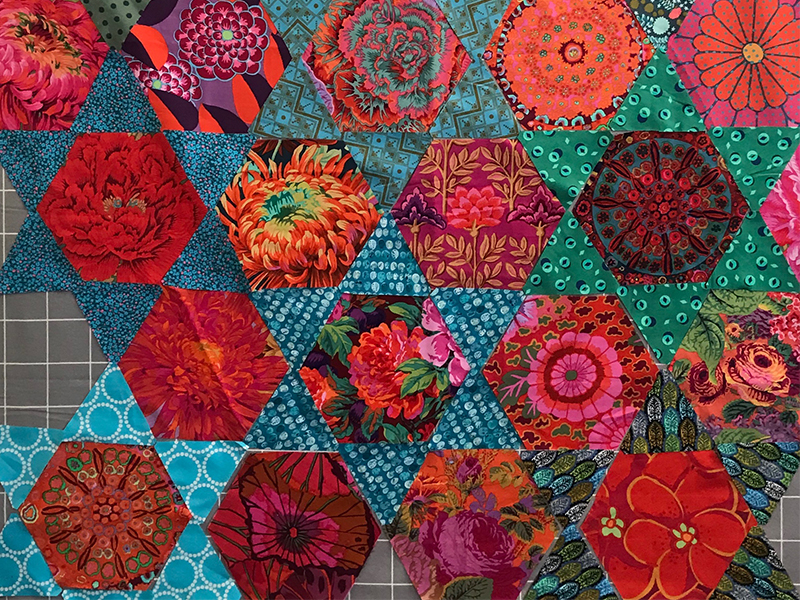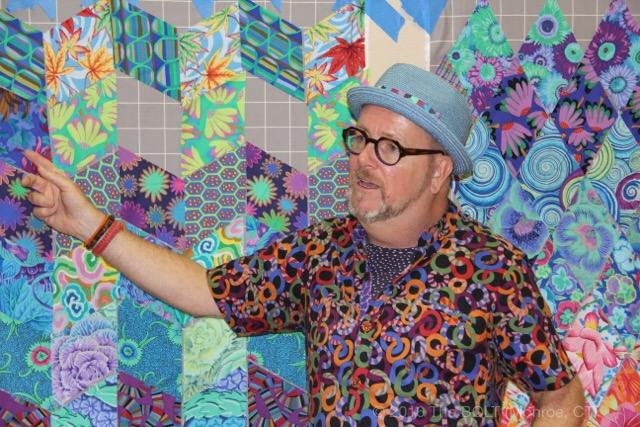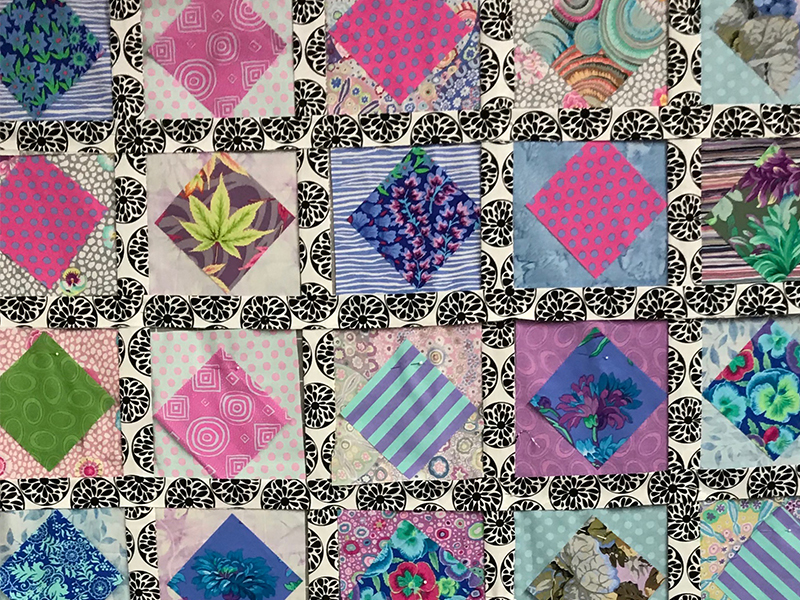 Frequently Asked Questions
How much fabric should I bring to class?
More is never enough. In the class instructions there will be a suggestion on the type of colour mood to reach for and scale of print. Come to class with at least 12 half yards (or metres) of different fabrics that hold together as a story in colour mood and scale of print and we will build on it from there.
How large will I make the patchwork?
The class is a really a colour confidence building workshop. Hopefully you'll leave the class feeling that inspired and pleased with the end result, you'll want to make it large enough to cover Buckingham Palace and make more. Please don't come to class thinking you're only going to make a lap quilt as you might just shock yourself J
Should I cut any of my fabrics before class?
NO, You want to hear the introduction to the class from Kaffe and Brandon first!
Can I use my own fabrics from home?
Absolutely, providing they are the right scale and colours suitable. Please don't think that because you're doing a class with Kaffe and Brandon, you can only use fabrics that are by the Kaffe Fassett Collective. We love it when other fabrics are mixed in with ours. We highly recommend variety.
Will Kaffe and Brandon be available to Shop?
There is nothing we enjoy more than helping people pick a colour palette at the beginning and during the class.
Why is white Flannel not suitable for the workshop as your design wall?
Working against a white wall is like working against a snow bank. White kills colour. It adds a had contrast and when you're trying to enjoy a harmonious colour palette and white flannel keeps showing though – you want to give yourself an easier time – hence why we recommend a grey-based flannel wall such as the Kaffe Fassett Grey flannel cloth off the bolt.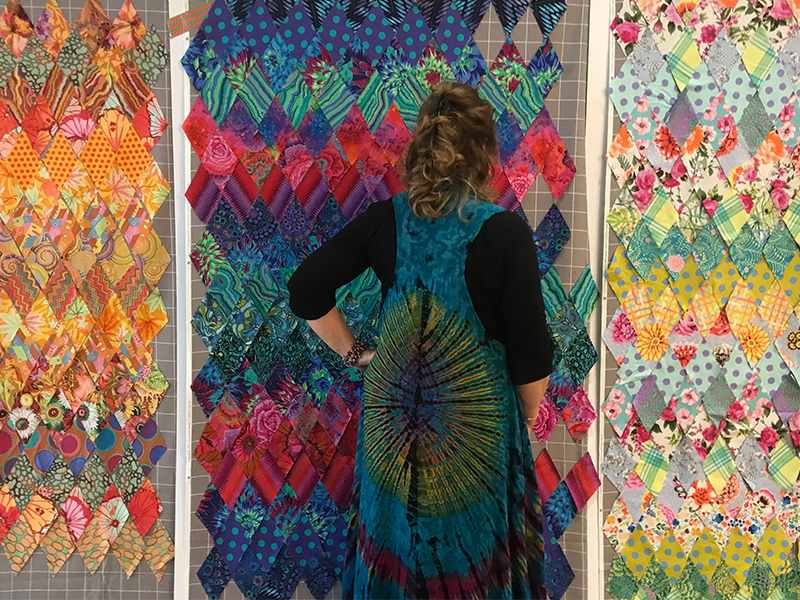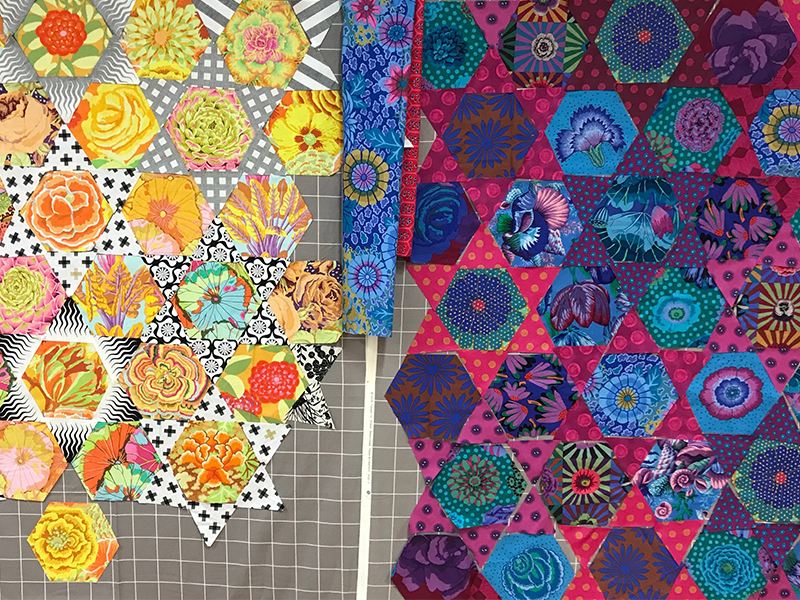 Kaffe Fassett Glorious Colour Lecture
The Kaffe Fassett lecture is designed to inspire and motivate. The presentation highlights works from his latest projects, including his patchwork quilt, fabric, needlepoint, mosaic, painting and knitting designs. A tremendous amount of Kaffe's inspiration comes from his continual travels and his lecture is designed not so much to instruct but to empower and inspire the audience to create and develop their "mind's eye". Audiences leave invigorated – entranced by Kaffe's sense and use of colour; they are ready to try it themselves and are encouraged to do so. The slide show lasts approximately 1 hour followed by a question and answer session and book signing.