Kaffe Fassett and Brandon Mably: Textile designers who paint with yarn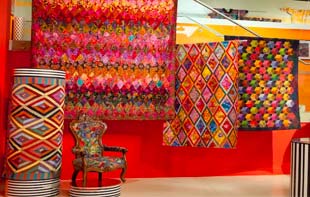 Design Indaba, July 2015
Touring the world like the rock stars of knitting, Kaffe Fassett and Brandon Mably are two technicolour textile artists whose work explodes with bright patterns.
"There's nothing shy about it," says Kaffe Fassett of his colourful textile designs. "Colour is my absolute passion – and that's what I concentrate on."
Internationally-renowned textile designer Kaffe Fassett was born in San Francisco in 1937 and moved to England as a student. He instantly fell in love with the various hues of Scottish wools, and knitted his first sweater using 20 different shades of yarn. No one had seen anything like it, and since that first sweater his work has always been unapologetically bright.