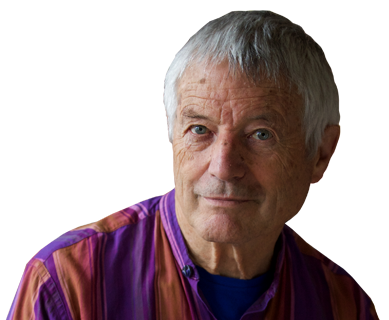 Kaffe Fassett has dedicated the last 50 years of his life to the world of Knitting, Needlepoint and Patchwork, promoting these crafts through his own work and encouraging others to find their own creativity. He has produced over 30 publications from 'how to books' to colour in design, and also tours internationally giving workshops, lectures and museum exhibitions.
Kaffe Fassett was born in San Francisco in 1937. Kaffe started as a fine artist, winning a scholarship to study at The Boston Museum of Fine Arts School when he was nineteen. He left after three months to paint in London, and he still continues to exhibit his paintings. After settling in England in 1964, his passion for colour led him to knitting and designing knitwear for Missoni and Bill Gibb amongst others, and his hand-knitted garments are now in museum collections all over the world. He later took up needlepoint and patchwork, creating both his own works and designs for others to make.
Kaffe ventured into the world of colourful yarn on a visit to a Scottish wool mill with fashion designer Bill Gibb. Inspired by the colours in the landscape, Kaffe was thrilled to find the same colours in yarns. He bought 20 colours of Shetland wool and some knitting needles, and on the train back to London a fellow passenger taught him how to knit. His first design appeared as a full page spread in Vogue Knitting magazine.
In 1969, Kaffe was asked to design a garment for a large colour page feature in British Vogue, photographed by David Bailey. From this, in the 1970s he collaborated with Missoni, designing their textile knitwear patterns in Italy, which were sold worldwide. Kaffe's unique garments have been commissioned and collected by Barbra Streisand, Lauren Bacall, John Schlesinger, Ali McGraw, Irene Worth, Shirley Maclaine, Helen Frankenthaler, Alan Bergman and H.R.H. Princess Michael of Kent, to name but a few.
The multi-coloured, complex knitwear designs created by Kaffe, became one of Scottish designer Bill Gibb's trademarks. Vogue's Beatrix Miller chose one of Bill Gibb's designs as the 1970 Dress of the Year, which included a Fassett hand-knitted waistcoat, showing that traditional textile handicrafts had become an acceptable aspect of mainstream fashion. Fassett and Gibb worked together through to the end, collaborating on Gibb's final collection in 1985.
Kaffe has also been interviewed countless times on national television and radio programmes such as 'Richard and Judy' for 'This Morning'; 'The Bazaar' TV series; 'Chelsea Flower Show Live'; 'Collectors Lot'; 'The Homes Show' and 'Through the Keyhole', and for Radio 4's 'Woman's Hour' and 'Desert Island Discs' with Sue Lawley.
Kaffe has participated in various exhibitions and solo shows over the years; though it was in 1988, when Kaffe became the first living textile artist to have a one-man show at the Victoria & Albert Museum in London. The exhibition attracted such crowds that the Museum doubled attendance figures during the run and the exhibition toured to nine countries: Finland, Holland, Norway, Denmark, Sweden, Australia, Canada, USA and Iceland (where 5% of the total population attended).
Winter 2017 Newsletter Dear All, Kaffe and I are just finishing off a very successful workshop and lecture tour in the US, visiting patchwork shops from Southern California to Northern Idaho to Tennessee and New York State arranged by Westminster Fibers. Each shop on...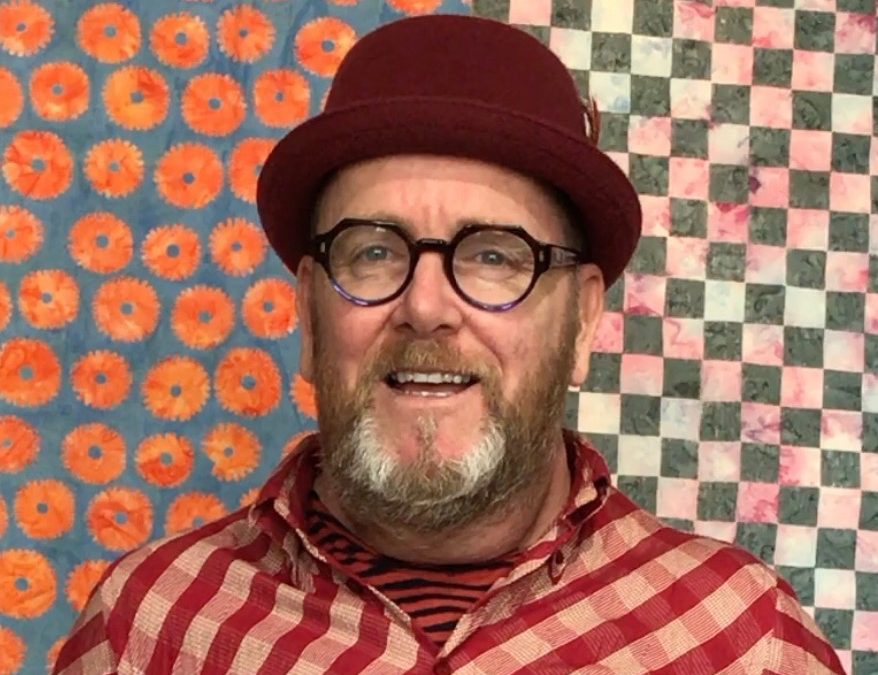 Summer 2017 Newsletter Dear All, The London high-streets are bustling with tourists enjoying the English summer. Kaffe and I have been starting our day early with a quick swim in the Hampstead Heath ponds. A treat to behold. Natural spring water surrounded by mature...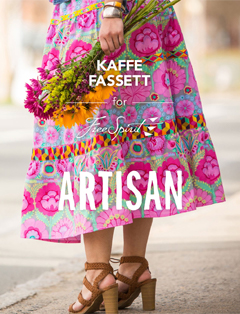 As I'm writing this, a blackbird is outside the window singing its heart out with clear, clear skies. Beautiful! With this I am delighted to announce that we have launched the new Kaffe Fassett website…
"Kaffe turned his hand to various creative projects, such as designing costumes and sets in 1993 for the UK based Northern Ballet Theatre, which led to The Royal Shakespeare Company commissioning Kaffe to co-design the set and costumes for 'As You Like It' in 2000, directed by Gregory Doran."
In 1990 in Stockholm, a ballet featuring flowing Fassett coats and shawls was staged at the Art and Industry Museum for the opening of his exhibition there. The queues were so long that the opening had to be restaged three times and 107,000 people attended.
The Hankyu Department Store, Osaka, Japan invited Kaffe to create 3 room sets in their store, for a British fair, sponsored by the British Council. Over 30,000 people visited the display in 6 days. In June 1998, Kaffe displayed his quilts from his 8th book, 'Patchwork' at the Japan World Quilt Fair in Tokyo, drawing 120,000 spectators.
From early 2000s, major exhibitions have included 'The Textile Tradition, Then and Now' (2001) and Quilt Bonanza (2003) both at The American Museum in Bath, plus shows at Stening Slott, in Sweden (2004) and Rohsska Museet, in Gothenburg (2004).
2005 saw a variety of exciting commissions, projects and publications. Exhibiting quilts at the Textile Museum of Canada, involvement at the Yokohama Patchwork Festival in Japan and Kaffe's contribution to two group shows, 'The Artist and Radio 4' at the Bankside Gallery and a painting exhibition at the Catto Gallery, London saw the year end with a prestigious invitation to design and decorate the Victoria and Albert Museum Christmas tree in collaboration with Kaffe's latest book publication 'Kaffe Fassett's V&A Quilt's'.
Kaffe's one man multimedia show in 2006 at the Prince Eugen's Waldemarsudde, Sweden was followed by an exhibition of Kaffe's quilts, knitting and needlepoint at the Modemuseum Hasselt, Belgium and 2007 continues with Kaffe embarking on a workshop tour of Australia and New Zealand and the launch of his knit book 'Kaffe Knits Again' published by Rowan.
In 2013, the solo exhibition 'Kaffe Fassett – A Life in Colour' at the Fashion and Textile Museum in London, featured over 100 works including knitwear and throws, patchwork quilts and a tactile installation for visitors to touch so that they could get a better understanding of the structure behind his work. In 2014, 'Kaffe Fassett: 50 Years in Colour' Exhibition at Aberdeen Art Gallery was extremely popular, and later toured to Norway in 2015.
The 'Ancestral Quilts' Exhibition at the Quilt Museum in York in Summer 2015 showcased Kaffe's new stunning quilt designs inspired by the Quilters Guild's historic collection of antique quilts from 1780 to 1949. This successful exhibition promoted the original antique pieces as well as the inspiring new pieces by Kaffe, as well as a section to inspire creativity and interactivity for visitors. This Exhibition is travelling to 3 venues in USA from Autumn 2015 called 'Blanket Statements'.
Kaffe turned his hand to various creative projects, such as designing costumes and sets in 1993 for the UK based Northern Ballet Theatre, which led to The Royal Shakespeare Company commissioning Kaffe to co-design the set and costumes for 'As You Like It' in 2000, directed by Gregory Doran. Kaffe revelled in the Elizabethan period and used knitting, needlepoint, rag-rugging and patchwork in the costumes, making this one of the most exciting commissions Kaffe has received to date.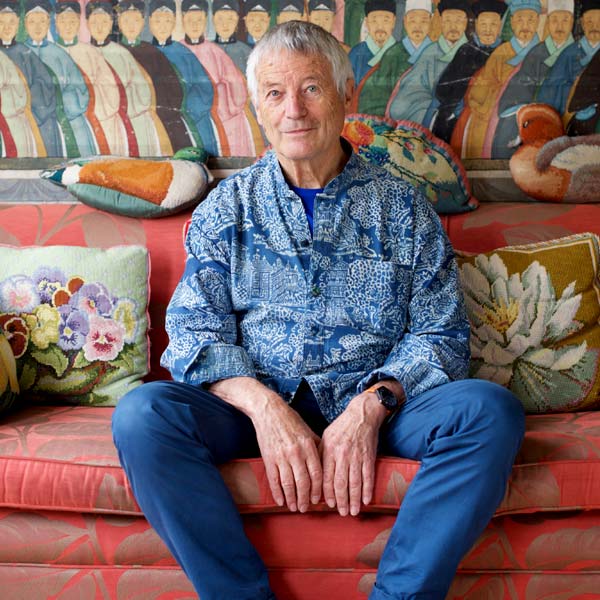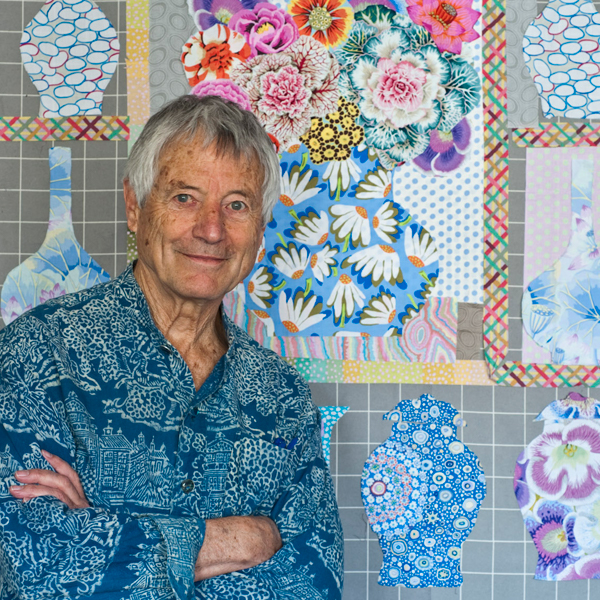 "…it was in 1988, when Kaffe became the first living textile artist to have a one-man show at the Victoria & Albert Museum in London."
Being more concerned with colour and design, Kaffe Fassett then worked extensively in many different textile arts, rather than the fashion world, later in his career.
By the early eighties, Kaffe had met Stephen Sheard from Rowan Yarns in Yorkshire, creating designs and knit-kits with their British yarn. One of their first collaborations was the Super Triangles Jacket featured on the cover of Woman & Home magazine, selling over 7000 kits in two weeks.
Since then, Kaffe has worked closely with Rowan Yarns in Yorkshire, whose insight into fashion and colour complements Kaffe's skills, so together they have produced ambitious designer patterns to inspire hand knitters all over the world. His favourite Kilim Jacket was modelled by Kate Moss in the 1992 Rowan Knit Magazine. He has contributed to the bi-annual Rowan magazine for over 30 years, which is marketed world-wide.
His first book was Glorious Knitting, published in 1985, offering over 30 exclusive patterns for knitted clothing, giving ideas for variations for the more adventurous knitter. The rich blend of yarns and use of colour give the illusion of complexity but the designs themselves are all based on simple shapes and stocking stitch and are well within the capabilities of the average knitter. It sold 40,000 copies in UK and USA in the first two weeks, and has since sold over 400,000 copies worldwide, a remarkable track record for a knitting book.
Since 1976, Kaffe has been the leading designer of needlepoint kits for Ehrman Tapestries of London, one of the most successful mail order needlepoint companies world-wide, aiming to promote British Craft. In 1987, the 'Kaffe Fassett Glorious Needlepoint' book was published, exploring the full potential of needlepoint as an inspirational source. As well as providing charted patterns, the embroiderer is given many ideas for producing his or her own designs for colourful rugs, shoulder bags, cushions and other items.
Kaffe's first needlepoint design was a commission by Pamela Lady Harlech, for Lord Harlech. Since then, commissions have included; two 5-foot square needlepoint tapestry designs for the 1994 Marks & Spencer department stores Christmas packaging; tufted rug designs for Christopher Farr Handmade Rugs; two 5-foot square needlepoint tapestries for the Sea Princess cruise liner; a needlepoint tapestry for an Elizabethan house in Yorkshire; a series of five tapestries and a tufted rug for The Edinburgh Tapestry Weaving Company; a 13′ by 15′ mosaic mural at the entrance to a theatre in Ojai, California; needlepoint arm chairs and an endless list of one-of-a-kind designs and tapestries for clients around the world.
Kaffe turned his hand to printed fabric design when working with Liza Prior Lucy in USA on new patchwork designs, publishing his book Glorious Patchwork in 1997. Since then, Kaffe has produced many hardcover books on patchwork, as well as working on over fifteen Patchwork & Quilting books annually for Rowan Yarn/Westminster Fibers.
A large part of Kaffe's output is now an expanding range of fabric prints for the patchwork market along with the Indian stripes fabric and shot cotton fabric range distributed worldwide by Westminster Fibers, USA and Rowan, UK.
For the 1985 UK TV programme 'Pebble Mill at One', Kaffe launched a needlepoint project, inviting anyone across the country to needlepoint an image of their favourite thing, no bigger than six inches square. Over 2,600 entries were sent in, forming the 'Pebble Mill at One' Heritage Tapestry, which was displayed at Chatsworth House then Harewood House. In the same year, the British Crafts Council invited Kaffe to present a BBC daytime television series interviewing leading UK crafts people.
Kaffe has inspired thousands of traditional one-colour knitters to employ rich palettes of colour through his six-part television series, 'Glorious Colour' for Channel 4. The series was aired in 1986, repeated three times and then released as a two-part video. It has been shown in various countries including Japan and Canada. In 1998, Kaffe released 'Kaffe's Colour Quest', a video looking at colour and design inspiration through his world-wide travels. In February 1999, Kaffe presented a six-part series for Radio 4 called 'A Stitch in Time'.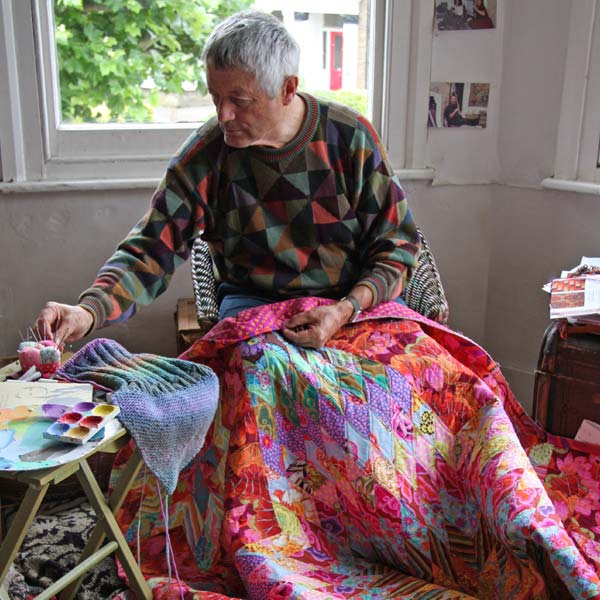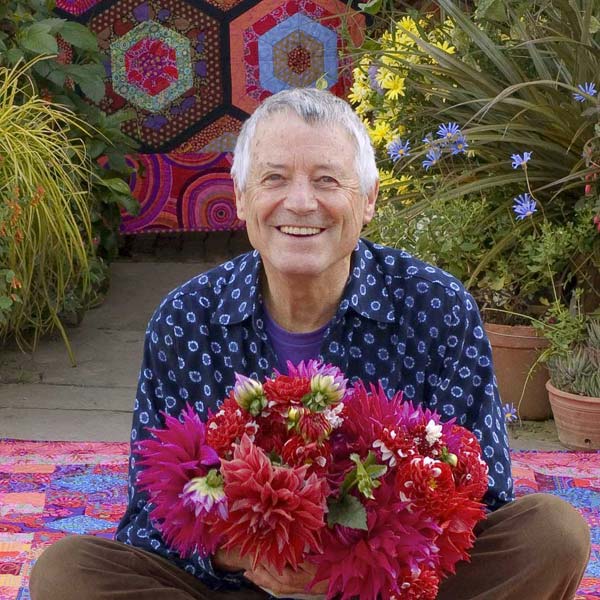 "Kaffe is a Patron of the Quilters' Guild of the British Isles; a national membership organization formed in 1979 and made up of 7000 individual members mostly in the UK, to bring together quilters, promote the heritage of quilting and work to ensure a vibrant future for the craft."
In 1998, Hilliers Garden Centres invited Kaffe to design their garden for the Chelsea Flower Show. The garden featured his mosaic columns, planters and a shell grotto and won a Gold Medal and was written up as 'The trend-setting garden of the year's show'. He has published various books on interior design and mosaics with Candace Bahouth. He has also been commissioned for rug designs, sock designs and various colour and design work in the UK and worldwide.
In 1994, the international charity Oxfam asked Kaffe to work with poverty-stricken weaving villages in India and Guatemala, to advise on designs that would be more marketable in the West. As a result, a range of colourful hand woven fabrics is being produced for use as shirt fabric, bed throws and patchwork fabric, available on an international basis through Rowan UK and Westminster Fibers, USA. Other charity work has also taken him to South Africa.
From 2009, Kaffe has been a Patron of Fine Cell Work's 'A Gift of Quilts', charity project working with prisoners to create needlepoint and patchwork items sold internationally.
Kaffe is a Patron of the Quilters' Guild of the British Isles; a national membership organization formed in 1979 and made up of 7000 individual members mostly in the UK, to bring together quilters, promote the heritage of quilting and work to ensure a vibrant future for the craft. He is also a Patron of the UK Knitting & Crochet Guild and the Heritage Crafts Association.
In 2013, Kaffe was awarded the Turner Medal. This is awarded by the Colour Group (Great Britain) to a distinguished artist or art historian, honouring Britain's greatest colourists.
In 2015 Kaffe became a Patron of the Shetland Peerie Makkers, set up with Brough Lodge Trust, to teach hand-knitting to Shetland youngsters, to nurture Shetland's wonderful culture of hand-knitting for future generations.
His Autobiography 'Dreaming in Color' was published in September 2012 and has proved to be extremely popular and sold worldwide.
Kaffe gives slide talks and workshops on Colour in design, which take him all over the world each year, allowing him to see how people use his fabrics and pick up inspiration. He teaches individuals all over the world to learn to work with colour in an instinctive way. Kaffe's unique sense of colour, drive to create, and his desire to encourage others, has led to his reputation as a guru in the world of colour and textiles.