I feel lockdown is sort of what open prison might be like. We amuse ourselves with active projects, books, TV, radio, etc. but I really miss my daily visits to the coffee house on the way to my gym.  After some solitary work each day with Brandon, gentle comradery of café life and fellow swimmers at the pool are much missed, going to see a film likewise.  But on the positive side, I have never experienced a Spring like this for the intensity of the flowers and foliage.  Joining in Pilates classes twice a week via Zoom and doing the 2 : 5 diet has helped give the weeks structure.
Our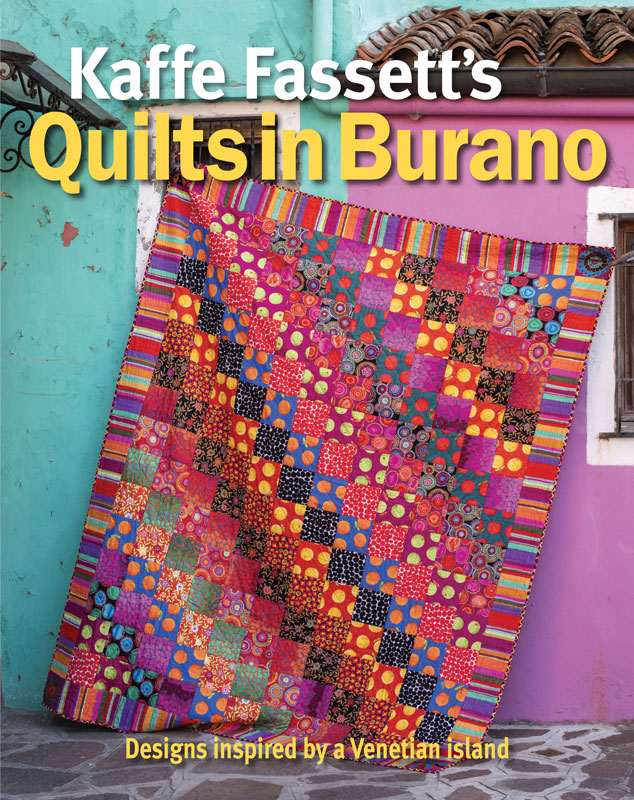 walks for exercise takes us past charming front gardens burgeoning with roses, most abundant than I've ever seen in my 50 years in the UK.  We will get through this but I worry about how the Arts will recover.  Most businesses will find a way to survive but the gathering of audiences for music, opera and theatre will be hard hit.  We need our culture and of all the things we are made to do without.  I miss most being in crowded rooms experiencing a great performance or expression.
Thank goodness we got our book photographed before the world become so restrictive – 'Quilts in Burano' is by far our most colourful book. The little fishing village near Venice, Italy, is astoundingly up-my-alley with it saturated colour on every house.  It was like a filmset designed to thrill its visitors. We were blessed indeed to have such a perfect backdrop for our newest quilts.
I just felt the urge to express this. Kaffe Fassett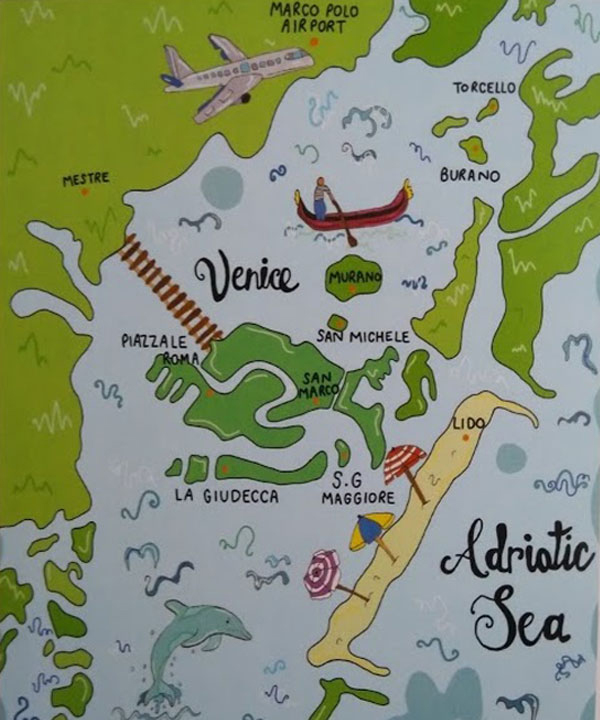 As our latest Patchwork & Quilt book 'Quilts in Burano' is about to be launched (August'20), my memories flood back to May 2019 when Kaffe and I stepped off the Vaporetto public taxi boat in Northern Italy onto the tiny island of Burano, to be greeted by rows of fishermen's cottages all painted candy colours. ​
It was truly like a toy town, rather than roads there were a couple of canals lined with by fishing boats. A quiet haven for the small population who you'd see pass by like door mice running about their business. The island is a 40-minute boat ride from the crowded narrow streets of Venice.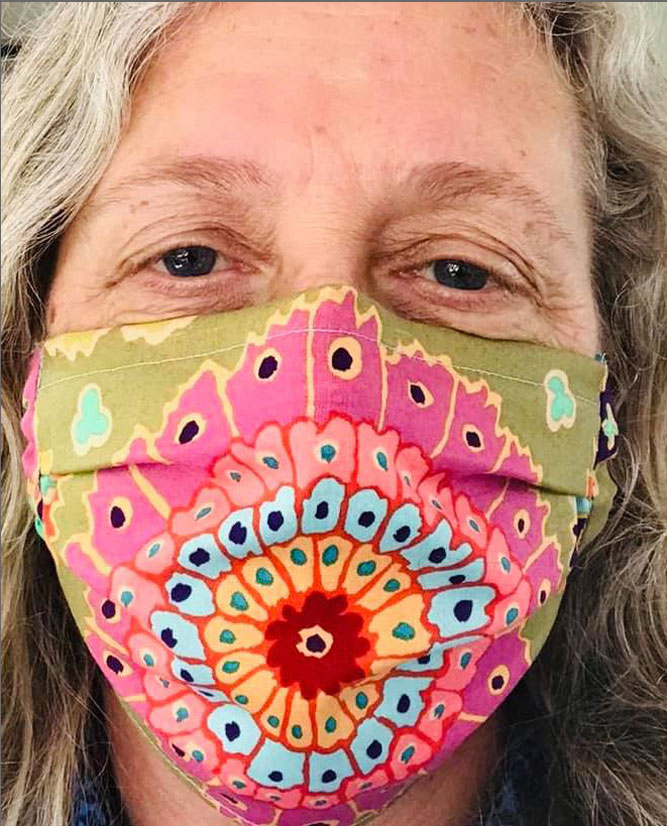 Taking the latest fabrics available in the KFC range, we set about designing 19 quilts, choosing all the medallion layouts from the previous books, for Liza and her team in the US and Janet Hague of Heart Space Studio in the UK.  Exciting news too – Free Spirit Fabrics has launched new colourways on older design – Spot, Aboriginal Dot, Paper Fans and a big favourite Turkish Delight.  Liza designed a super handsome quilt featuring the Dark Colourway of 'Turkish Delight' in a very clever patchwork layout called 'Turkish Coffee'.
Kaffe has also incorporated the playful design into a dark moody colouring for a new version of 'Midnight Diamonds'!   We'd love to see how you use the fabric. Earlier in the year there were new colourways in Mad Plaid, Zig Zag, Jumble and Spot fabric designs.  Free Spirit Fabrics will also be delivering to shops new colourways of Lotus Leaf, Guinea Flower, Millefiori, Diamond Stripe, Tiddlywinks and Luscious  which you will hopefully find in your local shops.
Talking about Kaffe's 'Turkish Delight' fabric – look what our studio Assistant Bundle Backhouse did with the fussy cutting Turkish Delight – oh so versatile don't you think ?!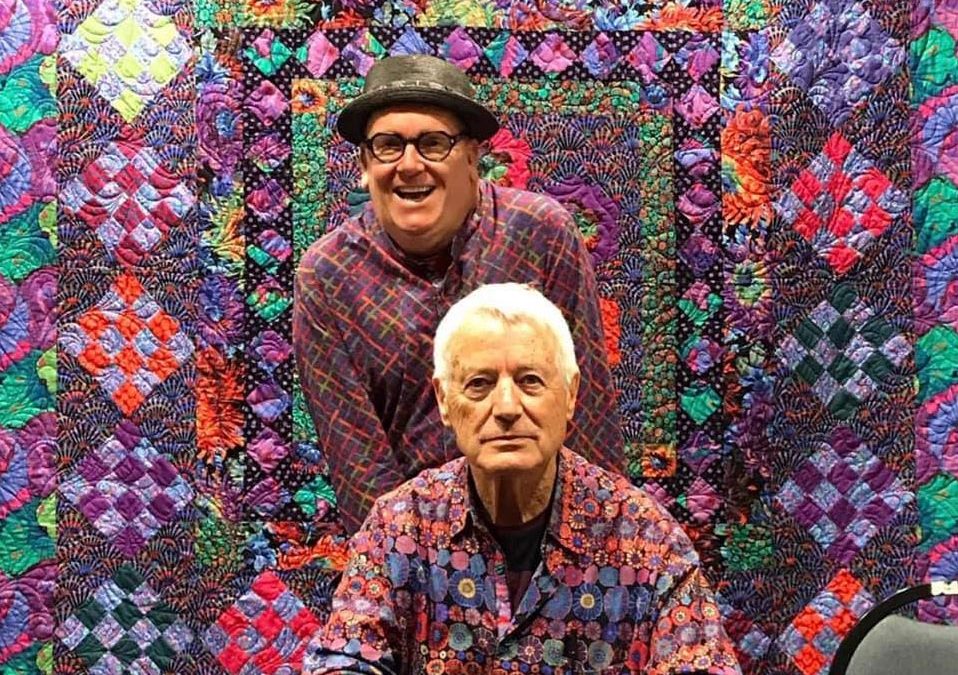 Spring 2020Newsletter Blimey, it's shocking to think that this time last year Kaffe and I met in NYC for the launch of the Coach x Kaffe Collection, at the NY fashion week. The anticipation was enormous as we had to keep it secret until after the hype of the fashion...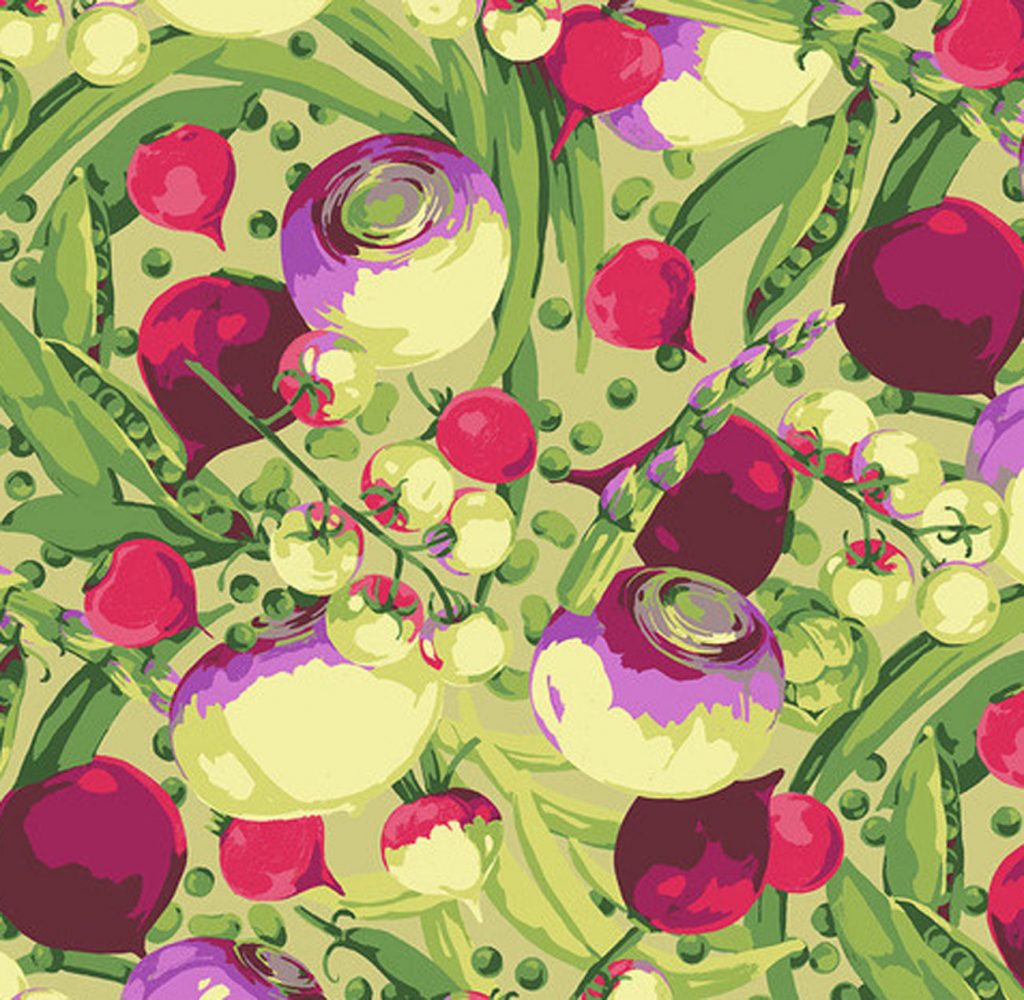 We are delighted to see that one of Kaffe's favourite fabric designers has re-joined Free Spirit Fabrics. Martha Negley, famed for her veggie fabric designs.
Kaffe credits Martha as being one of the best colourists in the industry. Her designs would mix with any collection and should be in everyone's stash.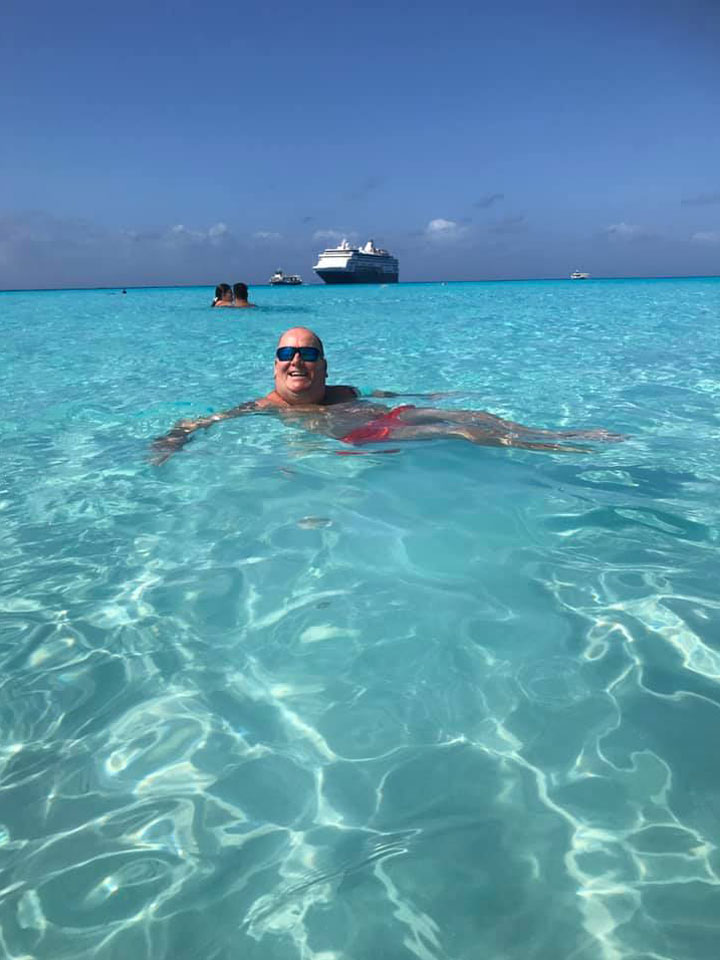 Isn't it amazing how time has whooshed by?!  2 years back we were making arrangements with Deb Roberts from World of Quilts Travel to teach on a cruise to Cuba & Caribbean with Liza Lucy – February / beginning of March 2020 we boarded the Veendam Cruise ship setting off into the Caribbean with a jolly group of 50 Crafters.  Sadly, the Cuba visit was cancelled but instead we had a magnificent time in and around the Caribbean. A great time to be away from the UK too😄
The project which Kaffe took with him on the cruise, was the Stoney Gridlock Stole, it's a one-of-a-kind because of the unlimited colours incorporated, (featured at the heading of this page).
Before our flight home we had time to kill in Fort Lauderdale and visited a hidden gem of a place, Bonnet House, a touch of old Florida – an artist home built in the 1920's, towering avenue of regal Palm trees, a reflecting pond with huge lizards posing in the sun – a charming architecture setting for the romantic with an intriguing art collection, it was a very refreshing side trip for Kaffe and I before our long flight home.
None of us expecting the sudden lockdown of the world, it was quite a shock. A week after arriving home, lockdown happened like the curtains descending at the Met and lights turned off.  Our local Starbuck closed indefinitely, followed by all our busy neighbourhood shops, bars, restaurants, hairdressers, gyms, cinemas – everything except grocery shops.  London was like a deflated tyre with earmuffs on, quite a change of rhythm to say the least.  Our immediate diary was cancelled, giving us time to edit our storage room.  
I gave Kaffe the much need task to review our old knit swatches (we always knit up the back of a new design) that had been stored in boxes in a side room.  Instead of tossing out swatches, Kaffe became so inspired by what he found, these forgotten projects that we'd saved over the years and inspired him to group them into colour groups and create the most dynamic sampler blankets – each a piece of history.  Early designs from fashion designer Bill Gibb, all his knit books and one-of-a-kind pieces commissions etc. These blankets will be used for an exhibitions in the future to inspire others exploring pattern in knitting.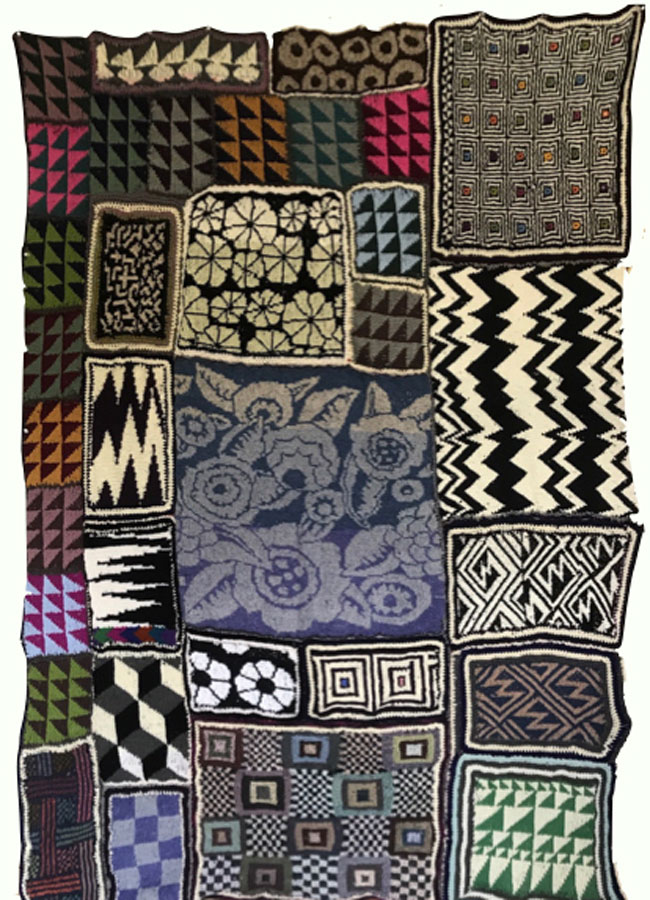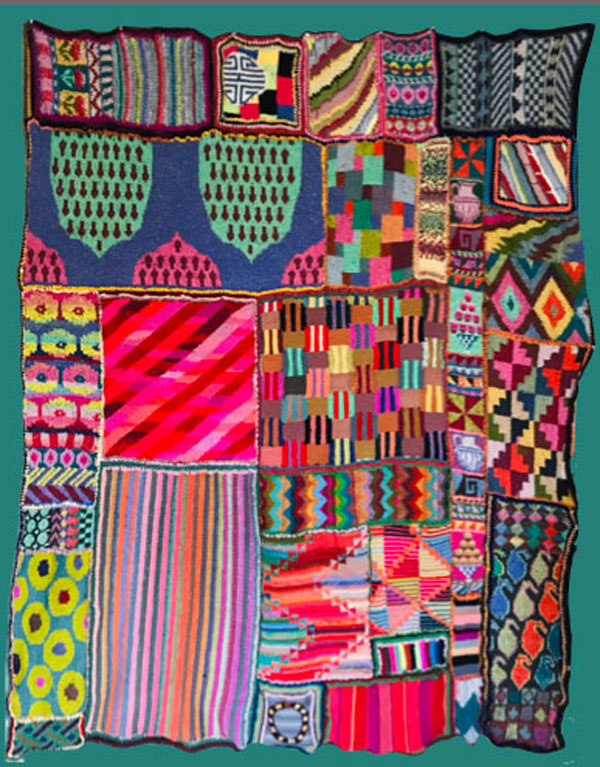 Sending all good thoughts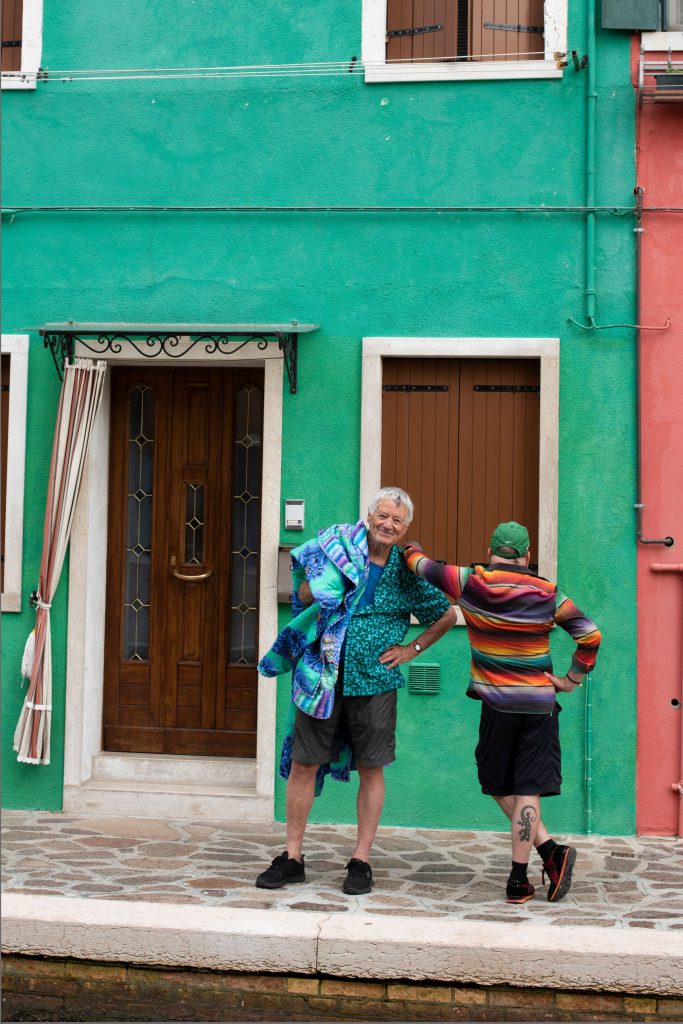 Brandon and Kaffe
at the Kaffe Fassett Studio, London
If you'd like to join us on Facebook under Brandon Mably or Kaffe Fassett Studio you'd be very welcome and on Instagram we're @brandonmably and @kaffefassettstudio.