Dear all,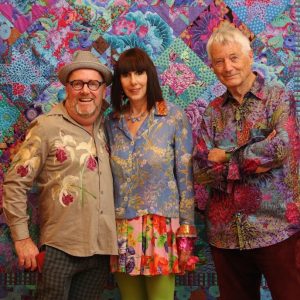 We're enjoying a heat wave here in London at the moment and we hope that wherever you are in the world, you're enjoying some summer (or winter) sunshine too!
Our summer kicked off spectacularly this year with the opening of Kaffe's new exhibition with mosaic artist Candace Bahouth at the Victoria Gallery, in the beautiful historic city of Bath, UK. 'A Celebration of Flowers' features a range of quilts and needlepoints from Kaffe's book – Bold Blooms (published by Abrams). The harmony created between Kaffe's work with Candace Bahouth's mosaics makes this is a special exhibition not to be missed, not to mention that the City of Bath is brimming full of delights and well worth a visit for the weekend. More info here.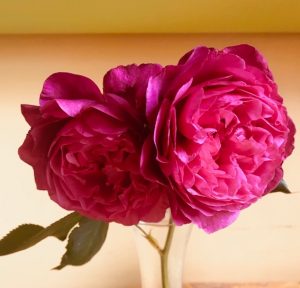 We're excited that the Kaffe Fassett rose is now available to buy in the USA from Heirloom Roses – more info here. This beautiful Florinunda rose has an exquisite scent and is produced by the world-renowned Rosen Tantau of Germany – Visit their website here.
See below – a sneak peak of Kaffe's new book: Quilts in America (published by Taunton), which will be launched at The Festival of Quilts in Birmingham (UK), 9th  to 12th August and at Houston Quilt Market 1st to 8th November in the US.
Kaffe and Brandon's USA fall tour is just around the corner, from 21st September to 9th November 2018. They begin this year with Vogue Knitting Live in San Francisco, celebrating the 40th anniversary of Rowan Yarns, where Kaffe will be the keynote speaker. For more info, please visit Vogue Knitting Live. They will then be travelling the States giving lectures and workshops at the following fabric shops and will finish the tour at Houston Quilt Market and Festival.
DESTINATIONS ON THE USA TOUR 2018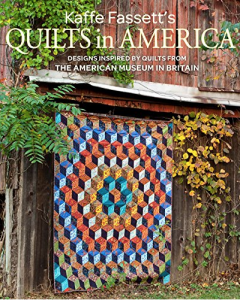 Roxanne's, A Wish and A Dream – 27th – 29th September
The Bernina Connection – 1st – 3rd October
Holly's Quilt Cabin – 5th -7th October
Sarah's Fabrics – 9th to 11th October
Millie P's Quilt Shop – 13th – 15th October
Craft South – 17th – 19th October
Chadwick Heirlooms – 21st – 23rd October
Happy Apple Quilts – 26th – 28th October
Quilt Market & Festival – 1st – 9th November
Visit the Kaffe Fassett events page for more info
OTHER EVENTS IN UK / EUROPE 2018
Knitting and Crochet Guild 40

th

Anniversary – A lecture and knitting workshop with Brandon – Thursday 5th and Friday 6

th

July 2018 – Click here for more info
Lecture and Workshops with Kaffe and Brandon at Handarbeitshaus in Dresden, Germany, 22

nd

to 24

th

August 2018 – Click here for more info or contact: Ortrud Krüger: O.Krueger@handarbeitshaus-meissen.de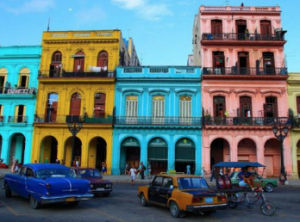 Finally, on the distant horizon, Kaffe and Brandon will be joining Liza Prior Lucy to teach on an 8-day cruise around Cuba and the Caribbean 26th February to 4th March 2020. They've got a whole load of creative workshops lined up for this exciting adventure, so get your bookings in quick, as there are limited spaces!
See more info here or contact Deb Roberts: worldofquiltstravel@gmail.com to book.
If you'd like to hear more from the Kaffe Fassett Studio – do follow Kaffe and Brandon on Instagram: @kaffefassettstudio and @brandonmably and Facebook @kaffefassettstudio and @brandonmablydesigns.
All best wishes,
Rosie
KAFFE FASSETT STUDIO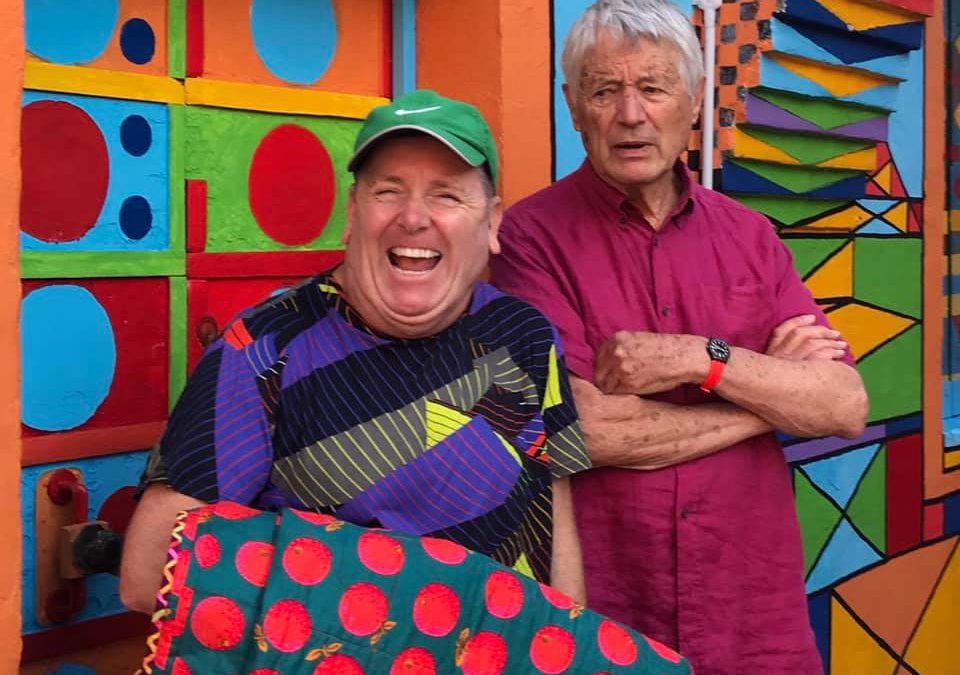 Summer 2020Newsletter I feel lockdown is sort of what open prison might be like. We amuse ourselves with active projects, books, TV, radio, etc. but I really miss my daily visits to the coffee house on the way to my gym.  After some solitary work each day with...
Sending all good thoughts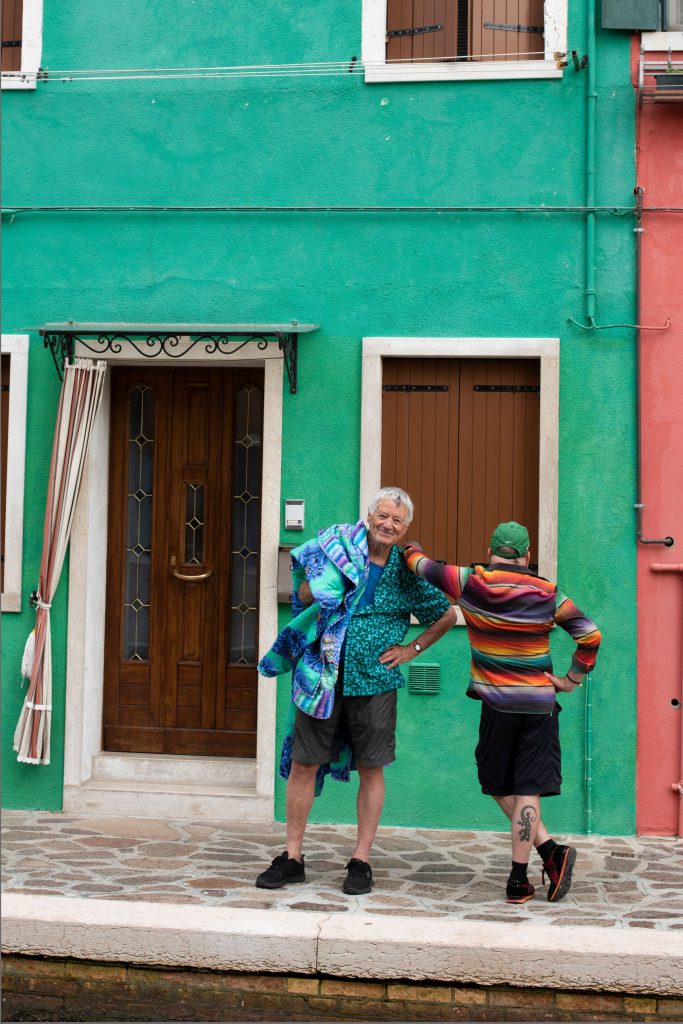 Brandon and Kaffe
at the Kaffe Fassett Studio, London
If you'd like to join us on Facebook under Brandon Mably or Kaffe Fassett Studio you'd be very welcome and on Instagram we're @brandonmably and @kaffefassettstudio.