Dear All,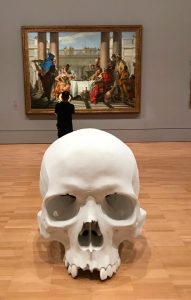 Kaffe and I have just settled back in London after an amazing time on a 2-month workshop and lecture tour. We started in the spellbinding landscape of New Zealand, with its gently undulating landscape, resembling a rumpled Persian carpet. The town was made up of bungalow-style houses, whose roofs looked like envelopes scattered on the hillsides. Travelling the North and South Islands, the creativity that poured out of the workshops we gave, left Kaffe and I beyond thrilled. We then went on to the baked terracotta soil of Australia, encrusted with tropical foliage, turquoise waters and each city and town funky and hip, with its own identity and feel. The lively creative vibe that runs through the country is part of who they are – from the colours painted on the houses, the ironwork that hangs like lace fringes, the painted or distressed corrugated tin roofs, the creative shop displays, the art galleries and world-class Art Museums. Even the artistry that goes into the street art and graffiti is inspiring. We ended the trip with a stop-off in Dubai for an International Quilt Convention, where we gave a lecture and workshop. Dubai itself was surreal. Looming out of the dusty haze, the tallest buildings in the world reaching as high in the sky, each with their own unique style and shopping malls lined with marble, gold and glass, cascading waterfalls, indoor ski slopes with outdoor temps in the 30's. In our workshop we had ladies attending from Alaska, Norway, Germany, Kenya, California, Japan, Iran, Portugal, Oman and North Yorkshire and it fell on International Women's Day – what a way to celebrate that day. The results from the workshop where stunning. We were so thrilled. Those of you who follow me on Social Media may have seen the pictures I shared. (Image courtesy of The Victoria Museum, Melbourne)
During the start of our trip, we had a hiccup in the productions and distribution of the fabric side of what we do. Coats, who produced and distributed our fabrics for over 20 years, suddenly closed the craft side of their business to focus on industrial production. We are now building a new relationship with a family-run, New York-based company called Jaftex, who have picked up the FreeSpirit brand, allowing business as usual and our fabrics distributed through the usual avenues. The new designs for the Kaffe Fassett Collective collection from Philip Jacobs, and myself, with new colourway from Kaffe, will be hitting the shops this April. Look out for my New Scuba design it could be very useful in a one block wonder 🙂
Scuba in Blue – Brandon Mably for the Kaffe Fassett Collective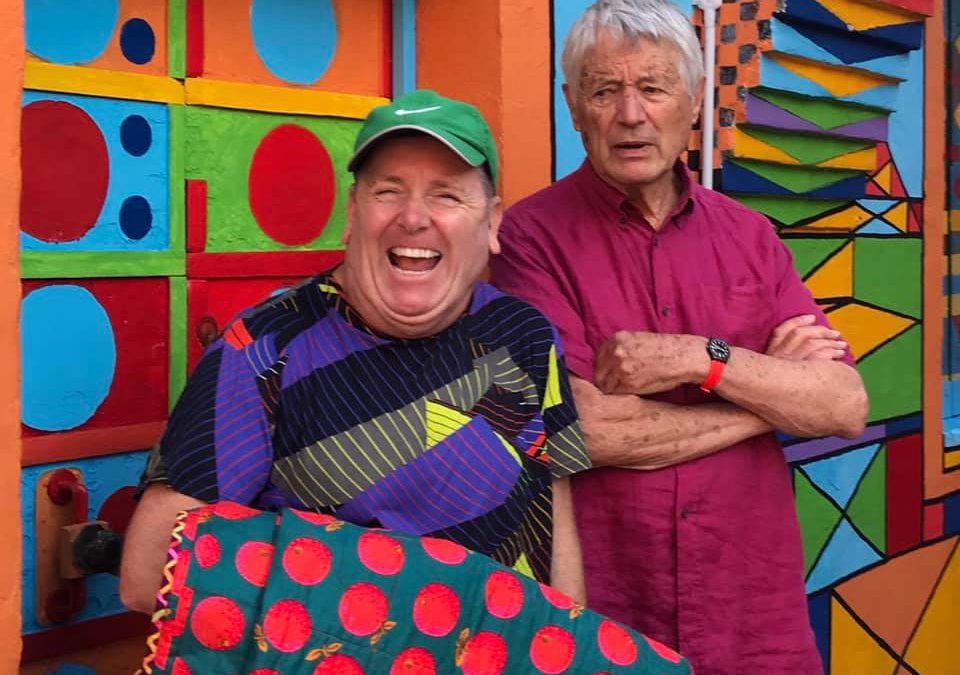 Summer 2020Newsletter I feel lockdown is sort of what open prison might be like. We amuse ourselves with active projects, books, TV, radio, etc. but I really miss my daily visits to the coffee house on the way to my gym.  After some solitary work each day with...
Kaffe has designed a new range of colours for Rowan's Felted Tweed yarn collection and has been working on a collection of knit designs to support the range, which will be launched later this year. In the meantime Rowan's latest knit magazine No.63, the design brief was 'Delft,' So, Kaffe created this wonderful blue and white porcelain themed jacket knitted in cotton, whilst I turned my hand to designing a series of knitted cushions.
Peruvian Connection's latest collection of ready-to-wear knits features a striking design called the Cajamarca Cardigan, hand-knitted in pima cotton by Kaffe. Kaffe manages to achieve such texture in the design, stranding three different colours close in tone together, to create more depth to each colour.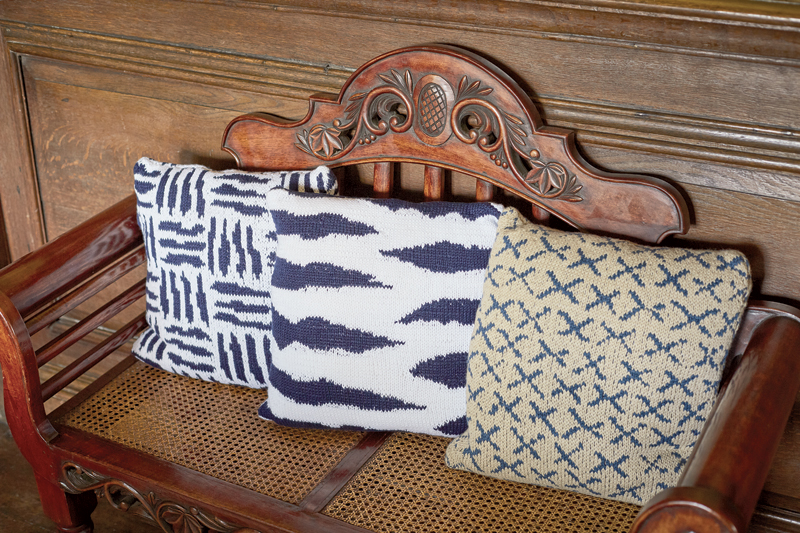 Tang, Song & Ming Cushions – Patterns available from Rowan Yarns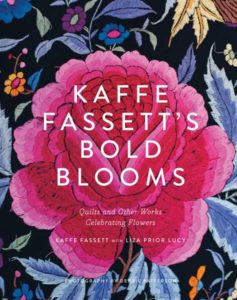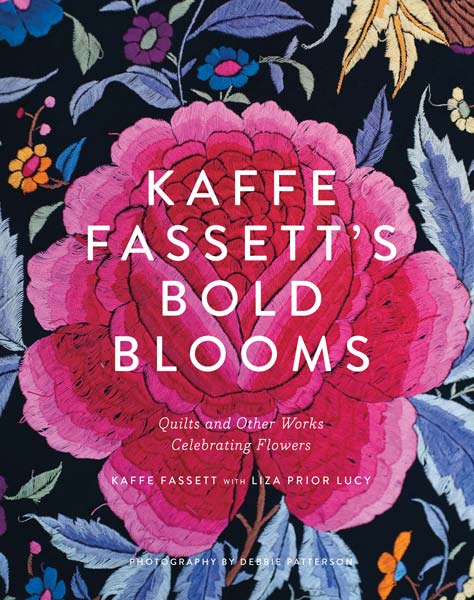 On May 19th we have a major exhibition opening at the Victoria Gallery, Bath, right in the city centre, 15 mins walk from the train station and 2 hours train ride from London. The exhibition will be of all the examples from Kaffe's latest hardback book 'Bold Blooms', along with a fantasy garden island of work by Mosaic Artist Candace Bahouth, who has mosaicked elaborate mirror frames, totem poles and vintage shoes, all with a flower theme. More info can be found on the Victoria Gallery website here. The exhibition will run until 2nd September 2018, with a lecture on the 25th July.
We also have a small selection of quilts on show at the Jen Jones Welsh Quilt Centre. The exhibition, Nos Da / Goodnight, is a celebration of ten years of wonderful exhibitions that have showcased the entire spectrum of the Welsh Quilting tradition and runs until 10th November 2018. View the Welsh Quilt Centre website for more info.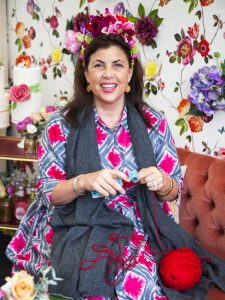 Kirstie Allsop ( presenter of TV's Location Location Location ) will be interviewing Kaffe to a live audience at The Handmade Fair, Bowood House and Garden, Wiltshire. If you haven't been before – its worth a day out. A very entertaining and inspiring event – tickets can be purchased here, using the discount code KAFFE,  remember to enter the code in at the start of the booking process!
We are working with UK based designer Laura Queening of AURA QUE, who specializes in producing fairtrade accessories. Laura has produced a delightful range of jolly bags and kitchen accessories guaranteed to brighten up any wardrobe or workspace. Do visit her website for more info on wholesale and retail prices.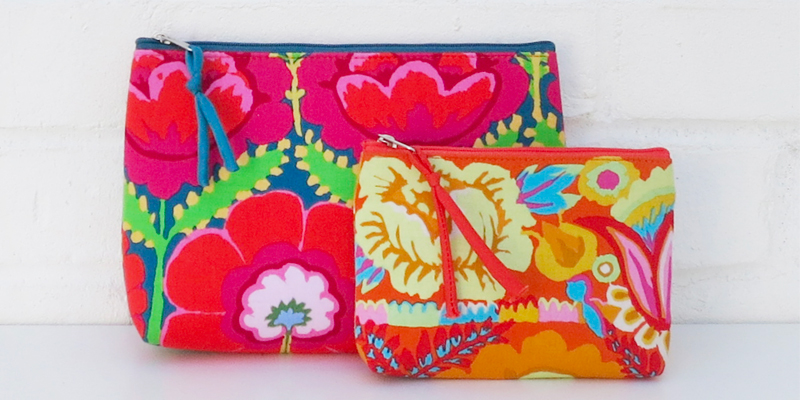 I'm pleased to see that the London Pottery Company and their distributors are now shipping the Kaffe Teapots. Wholesale information and more details on purchasing can be found on the London Pottery website.
Other Events – Knitting and Crochet Guild Convention, 6th – 8th July – Kaffe will be giving a lecture at Warwick University followed by a one-day colour knit workshop by myself.
August 4th – A lecture in Folkstone, Kent and 22nd to 24th August, Kaffe and I will be in Dresden, Germany giving a lecture and 2 workshops. More info can be found on our events page.
We are still trying to ground ourselves from the long trip away; Such a rich journey and so many impressions. We often get asked 'Will you design something from your visit' the answer is YES, – it all goes into the melting pot and comes out one way or another. We certainly are buzzing with ideas and inspiration, just never enough time in the day.
Sending all good thoughts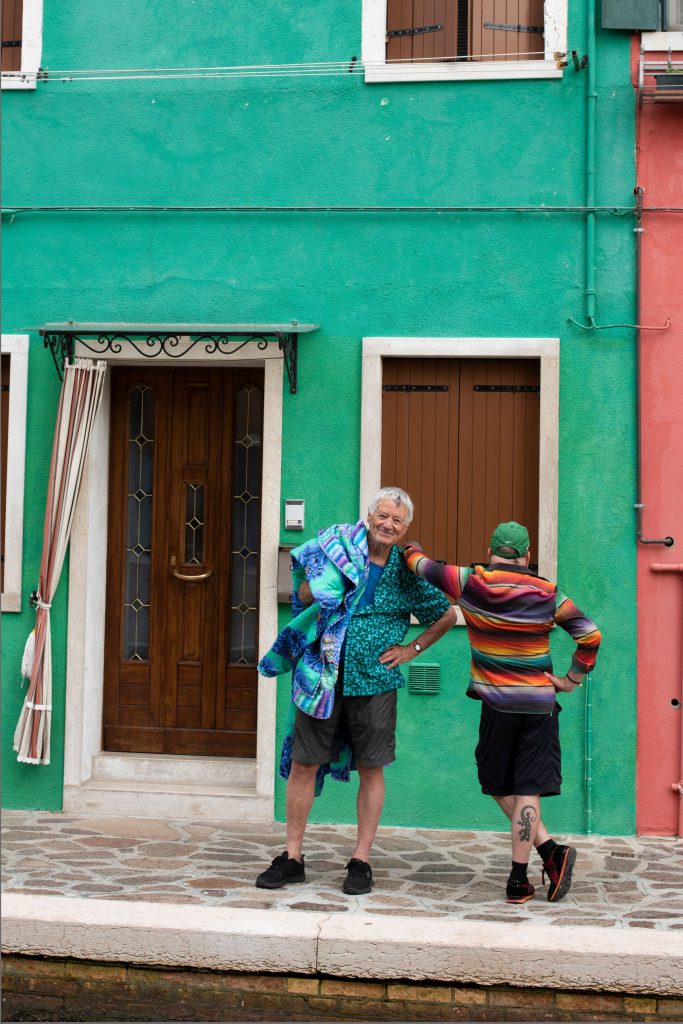 Brandon and Kaffe
at the Kaffe Fassett Studio, London
If you'd like to join us on Facebook under Brandon Mably or Kaffe Fassett Studio you'd be very welcome and on Instagram we're @brandonmably and @kaffefassettstudio.