Hello, hello from all here at the Kaffe Fassett Studio, London. I hope you're enjoying the social media feeds our PR assistant Rosie Holman is posting. If you haven't linked up, do look for our pages on Facebook and Instagram under @kaffefassettstudio and @brandonmably.
Kaffe and I have been working on new fabric designs for our 2020 collection – hard to even write that number as we have the studio windows wide open taking advantage of these blessed summer days, though my lawn resembles a peroxide blonde. Kaffe and I have had the luxury of starting some of our working days by taking an early morning swim in the outdoor ponds of Hampstead Heath, surrounded by mature trees and watched by the local Coots and Heron that live there year round.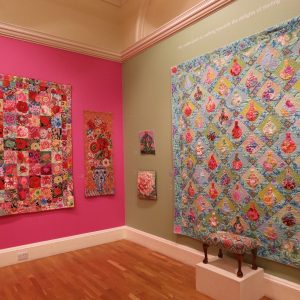 Late May we saw the opening of Kaffe's exhibition at the Victoria Art Gallery in collaboration with our long-standing friend mosaic artist Candace Bahouth. The exhibition is in a long gallery right in the city centre of Bath, England, an easy train ride from London and near the city train station. The gallery walls have been painted beautiful colours chosen by Kaffe specifically to set off Candace's Fantasy Mosaic work and compliment Kaffe's quilts and needlepoints from his book 'Bold Blooms'. What a joy it's been for the more than 32,000 visitors so far. The exhibition closes on 2nd September – if you can't make it before then, you can see a little tour of the gallery here.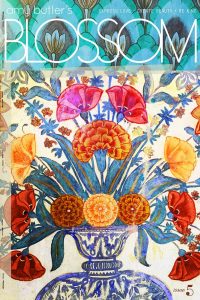 FreeSpirit Fabrics, who distribute the Kaffe Fassett Collective fabrics, seem to be making good headway settling in and reforming the company. A huge task the USA team has had getting production up and running again for all the designers but we feel positive about the new changes once past this settling in period. We all know it's NOT like making 'Instant Noodles.' The latest 'OMG' gorgeous designs from Philip and myself will be shipped to shops during winter and the new Artisan 3 fabrics will be in US early Fall featuring a collection of hand block prints and batiks. Watch out on the FreeSpirit website (which will be up and running again soon) for a free downloadable Kaffe Quilt that is mouthwatering and very different for Kaffe using the new Artisan 3 Collection of fabric.
Amy Butler's online magazine 'Blossom' finally arrived and is stuffed full with inspiration for anyone playing with pattern and colour. Exotic material from all over the world and personal stories too that have touched Amy personally including articles by myself and Kaffe. View the magazine online here.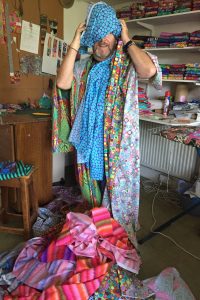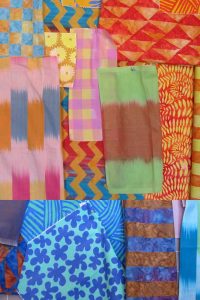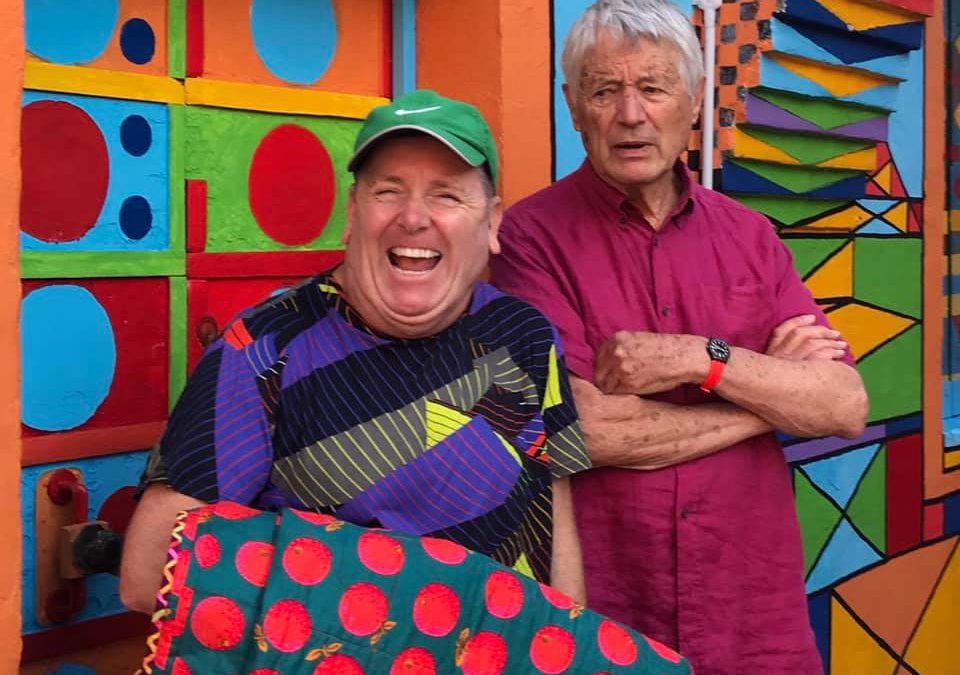 Summer 2020Newsletter I feel lockdown is sort of what open prison might be like. We amuse ourselves with active projects, books, TV, radio, etc. but I really miss my daily visits to the coffee house on the way to my gym.  After some solitary work each day with...
A group of 17 world travellers joined Kaffe and I,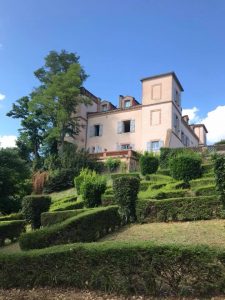 for a week of colour saturated workshops deep in the countryside of Toulouse, France at the splendidly atmospheric Chateau Dumas. The week was started by a dinner on the terrace drinking in the endless views of the countryside at sunset. Swifts danced like racing kites, fields of sunflowers and not a street light in sight. It couldn't have been more perfect. We all stood and introduced ourselves. Funny enough three-quarters of the group came from California, one from Sydney, one from Perth, and a couple from the UK. We painted, stitched and laughed our way through the week. A jolly time we had for sure. A different exercise each day broken by a magical blue woad dying day, which is traditional to the area. Each person drifting off hopefully as inspired and smiling as we did. We are talking with the Chateau about returning next August if you fancy it. 🙂
For knitters, look out for the latest Rowan yarns which have just been released this August. Their 'Kaffe's Colours' collection features Kaffe's brand new felted tweed colour range and a range of knit designs. Magazine available to buy here. We would also like to congratulate Rowan on their 40th Anniversary! Their latest Magazine, no. 64 is a special ruby collection and features a couple of knits by Kaffe and I.
We have just released the long-awaited 'Quilts in America.' It seems ages since we gave birth to the book, designing the fabrics, making the quilts then arranging the mammoth task of Kaffe and myself and our wonderful photographer friend Debbie Patterson, who flew over from the UK to shoot the book in and around Bucks County along the Delaware River, Liza Lucy's neighbourhood. Why Bucks County? Well, we love the old world, the book is based on the American Museum in Britain's collection of Antique Quilts, doing our interpretation. Where better to find old red barns, gorgeous stonewalls and classic American architecture to display them against than that part of Pennsylvania. For more on the books and recent fabrics, you may enjoy Kaffe's interview on Sewing Quarter. You can watch it here, starting 1:01hr in for one hour, and 3:01hr for another hour.
Won't be long until we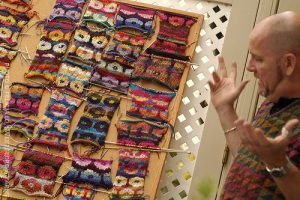 are packing our bags again to start the North America Fall tour. Starting in the heart of San Francisco for the first Vogue Knitting Live event, on to Central California, Arizona, Colorado, Kansas, Minnesota, Tennessee, Virginia, Florida and finally Houston for Quilt Market where we will join all the other Free Spirit team and an exhibition of quilts from Quilts In America (see more info here). Plus, 100 miles away from Houston is a charming historic town of La Grange that houses the Texas Quilt Museum which will be showing an exhibition of quilts from across the different Patchwork and Quilting books from the Kaffe Fassett team. The exhibition: Bold By Design is curated by Sandra Slider and will run from 4th October to 23rd December.
We will arrive back in the UK mid-November just in time for my colour knit workshop at Lady Sew and Sew, Henley on Thames on 22nd November. If you want an exercise in working with unlimited colours in a given design using basic stocking stitch – this is a class for you.
Finally, no doubt you may have heard, Kaffe has been awarded an honorary Member of the Most Excellent Order of the British Empire (MBE), by Her Majesty The Queen in recognition of his services to the crafts of knitting and needlework. He is to be presented with his honorary MBE by Michael Ellis, the Minister for Arts, Tourism and Heritage on 6th September.
I love that cartoon 'The Road Runner'. Do join us if you can, if not in person then keep an eye on social media for my photos.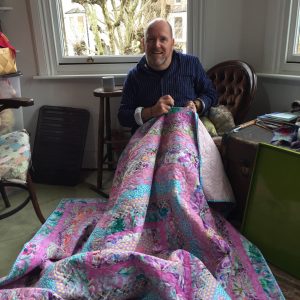 Sending all good thoughts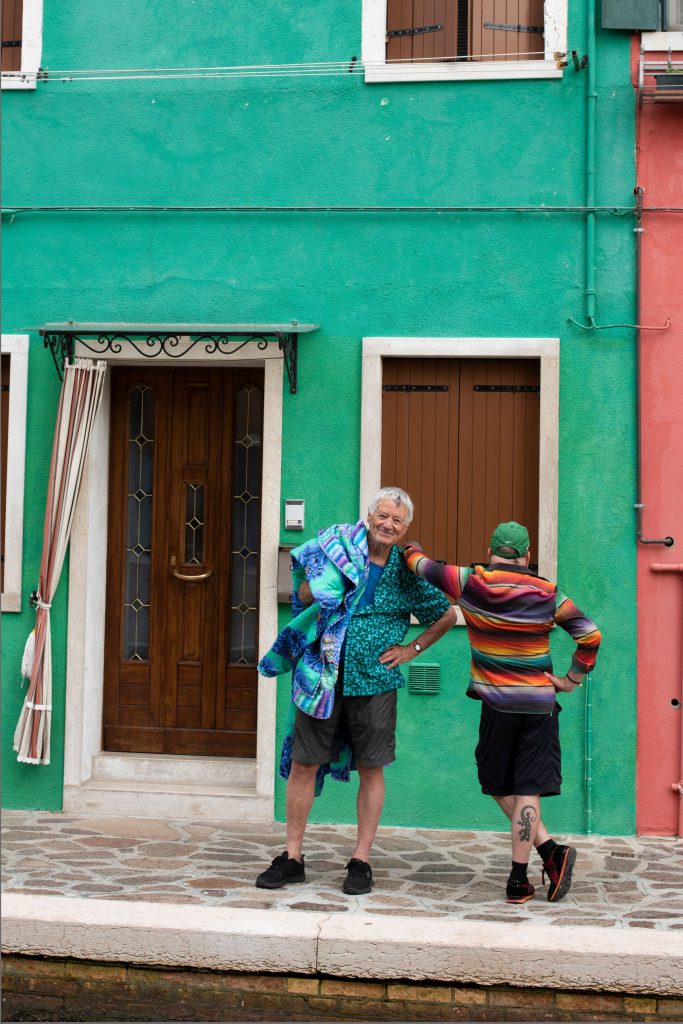 Brandon and Kaffe
at the Kaffe Fassett Studio, London
If you'd like to join us on Facebook under Brandon Mably or Kaffe Fassett Studio you'd be very welcome and on Instagram we're @brandonmably and @kaffefassettstudio.