Dear all,
2015 has been another bumper year for Kaffe and I; it has raced by in a flash. As the bare trees cast long shadows and the daylight saving makes a mood change to the seasons, I'm reflecting on what an amazing year it's been. In March we packed off an exhibition of over 200 pieces of work to be exhibited at the Hadeland Glassverk galleries just outside of Oslo. We had workshops in Prague, Austria, Oregon, USA and Saskatchewan Canada where we gave classes at a monastery that was also hosting bra making classes and serving alcohol! And then a month long tour of South Africa – boy, was that a fabulous trip too!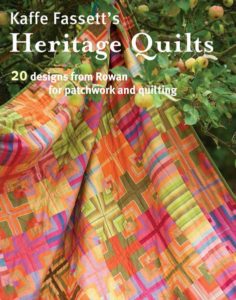 An exhibition at the York Quilt Museum opened, which Kaffe has been working on for the past couple of years. The British Quilters Guild invited Kaffe to select a collection of quilts from their archives, some of which date back to the 1700s and to do his interpretation of these quilts. So our team of makers set to and made a collection which is now featured in the latest Patchwork and Quilting book 'Heritage Quilts'. This exhibition ran from 15th May to 5th September 2015 and now is on show at the Michener Museum, Doylestown, PA until February 2016. The York Quilt Museum has now sadly closed its doors but the archive remains and can be viewed by appointment only. This project has been the most enjoyable book Kaffe has worked on. Many folks ask where he gets his inspiration from and this is a perfect demonstration of that process.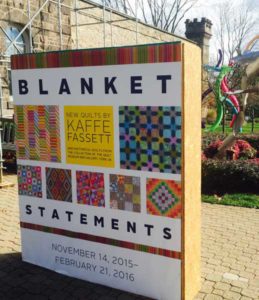 Kaffe and I have just returned from a seven week workshop tour of the USA. Starting in charming Ann Arbour, then criss-crossing the country and ending in New Hope, PA with 18 workshops and 8 lectures behind us. The tour was rounded off with the grand opening of the Michener Museum exhibit of our quilts show Blanket Statements. Our design partner, Liza Lucy will be continuing with workshops during the run of the exhibition. The Museum has an interactive app connected to Instagram set up for the education department as part of the exhibition. This app can be downloaded from iTunes. With this app, you can record and share your reflections on the works featured in the installations and listen to reactions and thoughts contributed by other visitors!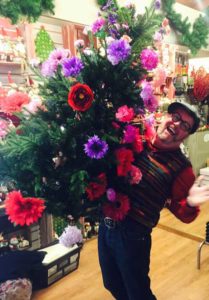 The day after stepping off the plane back in the UK we had the creative challenge of decorating a Christmas Tree for The Chelsea Gardener shop window off Kings Road, London to highlight the Kaffe Fassett Fragrance range. Discerning shops are carrying the range such as Kaffe's family restaurant shop in California called The Phoenix, Nepenthe Restaurant, Big Sur, CA. The UK based company who produce the range are also providing a mail order service too. Please visit www.kaffefassettfragrance.com for more information and enquiries. A couple of new additions to the fragrance range are a beautiful toiletry bag and also a scented candle – nice ideas for the holiday season.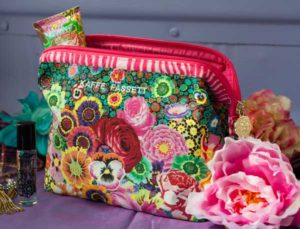 Kaffe also has a few new ready to wear knit garments for the Peruvian Connection catalogue who now also have stores open in London, Chicago, Boston and SFO. Visit Peruvian Connection here and put in Kaffe's name in their search engine to see his latest designs for them. Frequently I get asked for the patterns for these garments. The way Kaffe designs is to sit and knit up a swatch with the exquisitely coloured yarns for the Peruvian Connection Company, planning his colours and working up the design as he goes along. Kaffe uses up to 27 colours in a garment and often plies three tones together. These swatches are then translated by extremely patient and talented knitters in Peru. The yarns he uses are exclusively dyed by Peruvian Connection too, which makes the limited edition garments even more luxurious, timeless and impossible to reproduce in pattern form. The only way they're available is 'ready-to-wear.' So, leave a note out for Santa!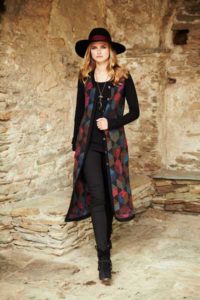 Rowan Yarns, who we design knit wear for their pattern magazines, have brought out their recent magazine 58. Our latest designs in this magazine are my Fingle Jumper knitted in Kid Classic and Kaffe's Guernsey Jumper in Colourspun.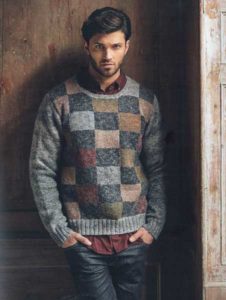 The new Vogue Knitting Holiday 2015 Fashion Magazine also features my Fair Isle Blanket Shawl in Focus Worsted from Rowan.
In the New Year we will be heading to Singapore, Jakarta, New Zealand and Australia, for a back to back workshop tour. Catch us if you can and we would be delighted to see you!
Please keep in touch through our websites on all other information about our new products, events and design work.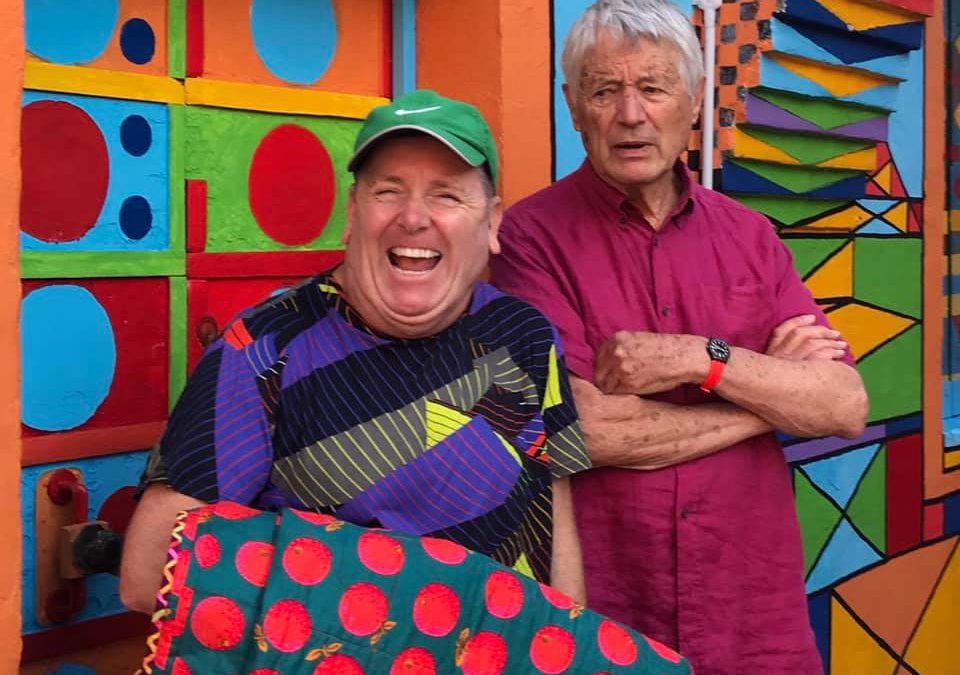 Summer 2020Newsletter I feel lockdown is sort of what open prison might be like. We amuse ourselves with active projects, books, TV, radio, etc. but I really miss my daily visits to the coffee house on the way to my gym.  After some solitary work each day with...
Sending all good thoughts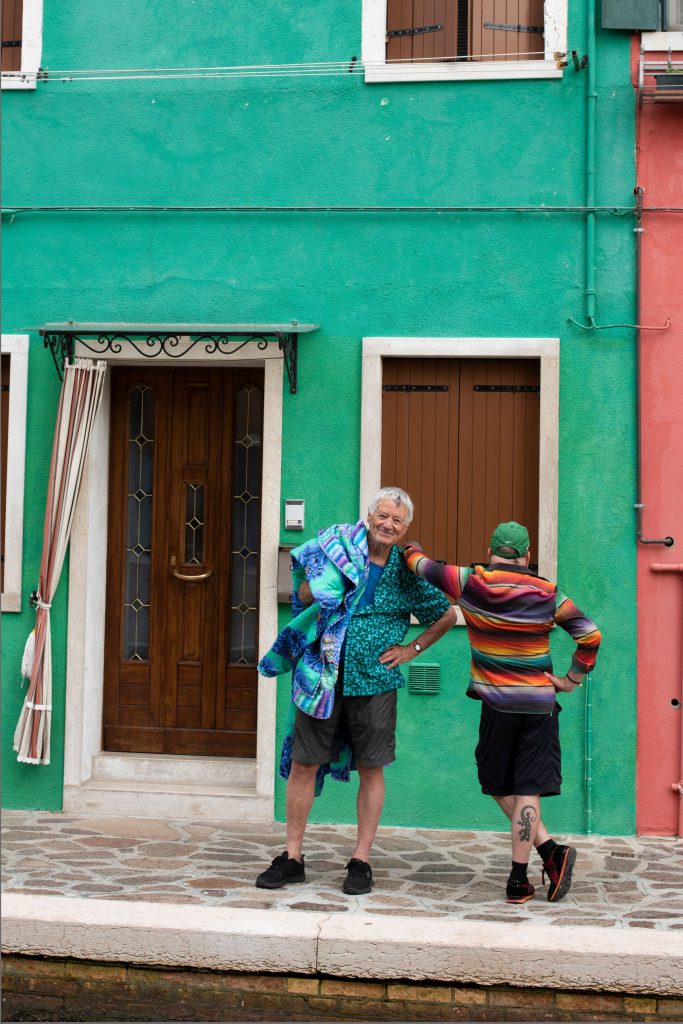 Brandon and Kaffe
at the Kaffe Fassett Studio, London
If you'd like to join us on Facebook under Brandon Mably or Kaffe Fassett Studio you'd be very welcome and on Instagram we're @brandonmably and @kaffefassettstudio.