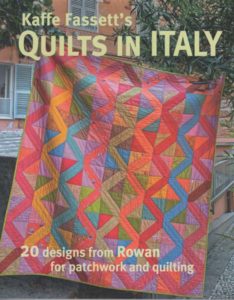 Dear all,
It seems a while since I wrote last and a lot of water has flowed under the bridge. Coats, who used to distribute our fabric and Rowan Yarns has changed the structure of their business. A new company has been formed to continue the Rowan Yarn brand called Mezcraft. Their website remains the same. They are also going to be distributing the Kaffe Fassett Collective fabrics. A Dutch company, Rhinetex, are distributing all of the Free Spirit fabrics and arranging big promotions throughout Europe and the UK.
My mind is still bursting with the memories of the past two months touring the USA promoting two of Kaffe's latest books. 'Quilts in Italy' was shot in and around the colourful fishing villages of Cinque Terre on Italy's stunning Amalfi Coast, published by Taunton Press. The second book Bold Blooms has been 4 years in the making, published by Abrams. Celebrating Kaffe's passion for large scale flowers in quilts and needlepoints, and includes his large collection of vintage textiles and flowery china. Many on this tour have shown their enthusiasm for the concept of the 'Bold Blooms' in workshops and richly visual lectures.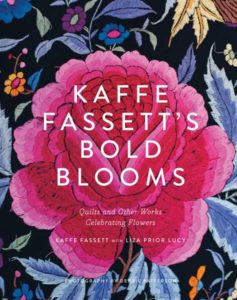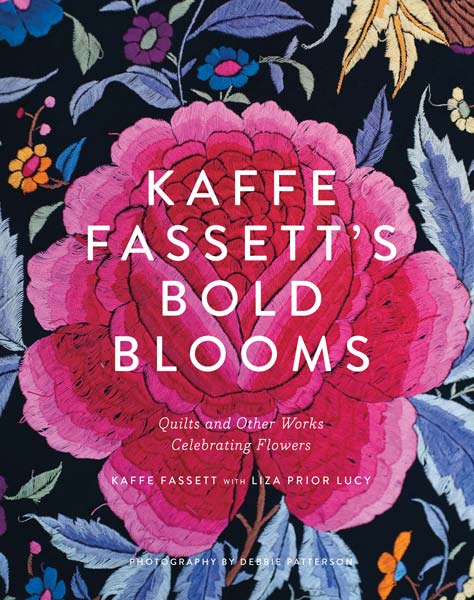 We started our tour at Quilters Take Manhattan at FIT in NY, just around the corner from the crazy calamity of 42nd Street, which is complete sensory overload. Our next stop was the peaceful farming town of Intercourse in PA, home of a large Amish Community – such an extreme contrast is hard to imagine. The tidiness of the farmsteads, each decorated with the most wonderful laundry lines draped across courtyards, the horse and trap clopping along side the SUV wagons of the visiting tourists. We even had the privilege of sharing a dinner with an Amish Family in their gas lit home – a warm and rare treat. I could write about every stop of the tour, as each place had its own charm. A quilt shop in Lacross, Wisconsin produced T-shirts of all the places we stopped off at on the tour like a rock band, even arranging a stretch limo to take us to the airport.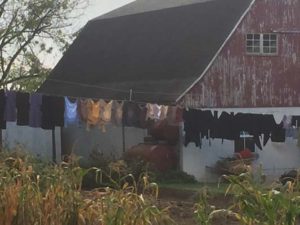 Amazing to see how diverse the landscape, architecture and climates are, from Minneapolis to high desert of Tucson, Connecticut to California. The theme music of the tour was the Hilary and Trump show – Oh boy, was Kaffe enthralled by the non-stop circus. Fortunately we have our creativity to keep us distracted and delighted. People often ask; don't we get tired, and yes, of course we do but the class results are exhilarating and seems to get progressively better each tour we make. Many of you will have seen results shared on Facebook on the two groups – Brandon Mably Designs from the Kaffe Fassett Studio and The Kaffe Fassett Collective.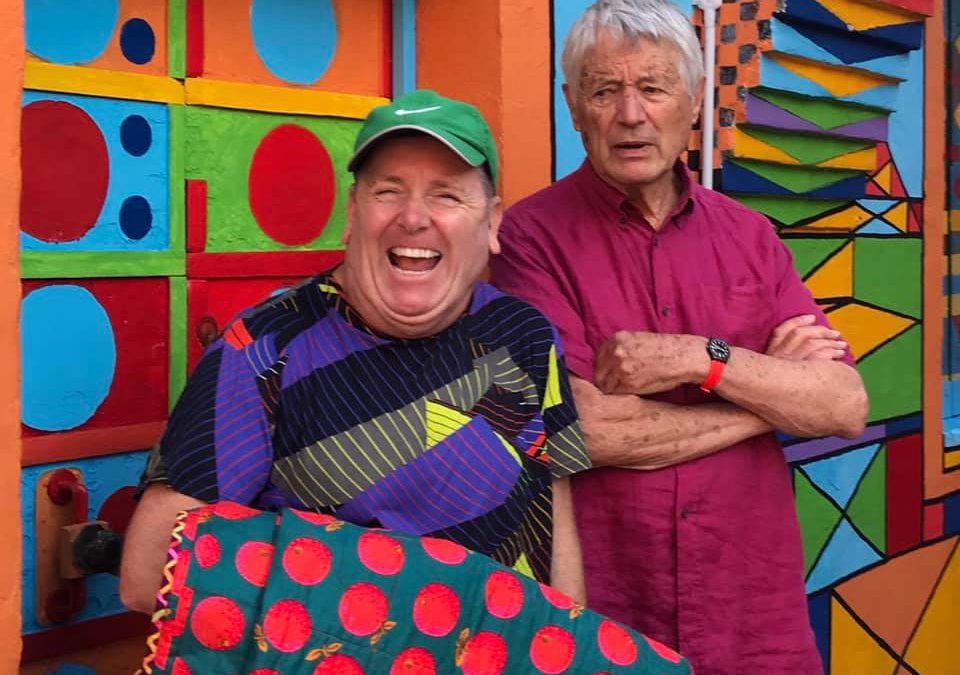 Summer 2020Newsletter I feel lockdown is sort of what open prison might be like. We amuse ourselves with active projects, books, TV, radio, etc. but I really miss my daily visits to the coffee house on the way to my gym.  After some solitary work each day with...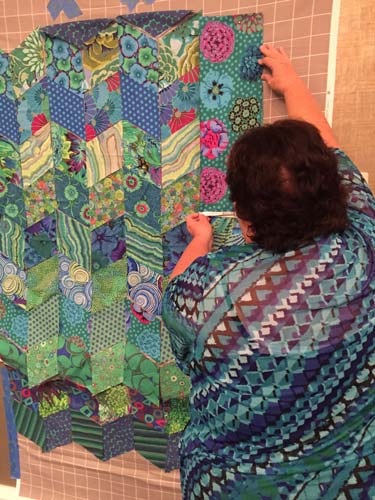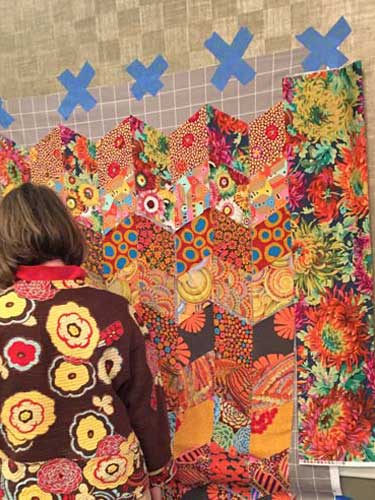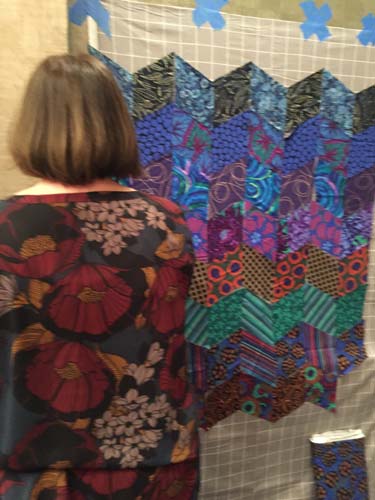 One of the kicks I get is when a participant is wearing an outfit that camouflages with the arrangement she is making, and she seems oblivious to it.We ended the tour with a big celebration at the Houston Quilt Festival, featuring an exhibition of the quilts from Bold Blooms along with some from 'Quilts in Italy' as well as launching our new Artisan collection of fabrics.
If your fingers are feeling in the mood for knitting, the latest Rowan Magazine No. 60 has an exclusive download pattern called 'Ember', and an easy to knit design by myself in gorgeous Kid Class silk and mohair blend, called 'Lorenzo'. Kaffe also has a bright, graphic new collection of ribbons for Renaissance Ribbons which we love to add to button bands and the inside of cuffs bands to enrich any garment. All the needlepoint designs featured in Bold Blooms are available mail order in kit form from Ehrman Tapestry.
<iframe src="https://player.vimeo.com/video/192971115" width="640" height="300" frameborder="0" webkitallowfullscreen mozallowfullscreen allowfullscreen></iframe>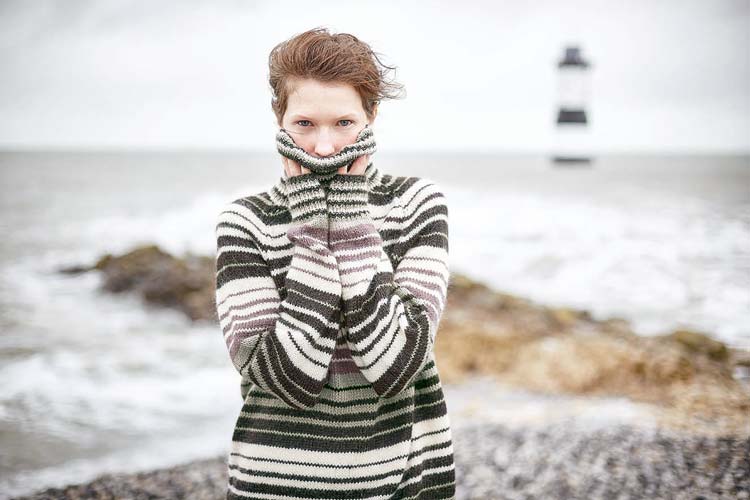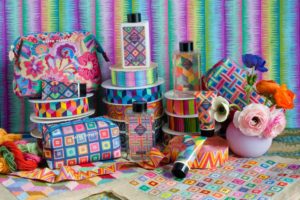 Heathcote & Ivory, who produce and distribute the Kaffe Fassett Fragrance range have launched a new line called 'On Point'. For more info on its availability and distribution visit their website and their instagram page. In the USA the Achillea fragrance range with its adorable toiletry bag is available though ASOS.com though research further as there are 12 different products in the range and ideas for gifts.
Peruvian Connection, who produce Kaffe's exclusive and timeless garments, available mail order or though their key account stores, are celebrating their 40th year. Take a moment to look at their website. I get requests for the patterns for these garments but each garment is constructed from 3 strands of different colours hand knitted in their own exclusive yarns. This makes these garments unique and almost impossible to pass on to hand knitters.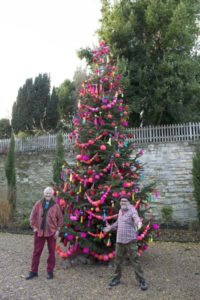 Finally, Kaffe and I have just finished decorating a 20 foot high Winter Tree for National Trust Arts & Crafts property of Standen House in East Grinstead, South of London. The Pink polystyrene balls Kaffe hand painted and strung together whilst a fabulous friend of ours called Rosie Wilks took on the task of making the highly coloured tassels. The Arts & Crafts house has been transformed into a Christmas Theme through the ages. We will be placing some of our work throughout the house followed by an exhibition which will run into the spring of 2017.
Already our diary is full of exciting dates, please keep checking in to see the events page on our web sites. For instance, 14th January Kaffe will be the Gala Dinner Speaker at the Anniversary Celebrations of Vogue Knitting Live at the Marriot Hotel, Time Square, NY NY – I will be giving 3 different knit classes, I hope that you are all letting your creative spirits flow and I send you all good thoughts to you all and thank you for signing up for this newsletter.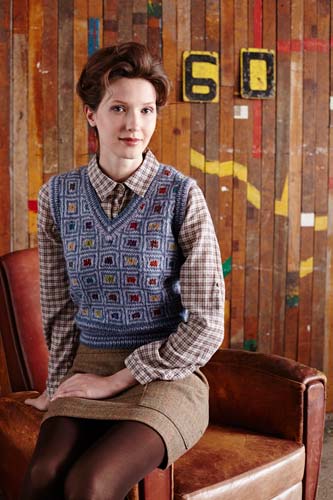 Sending all good thoughts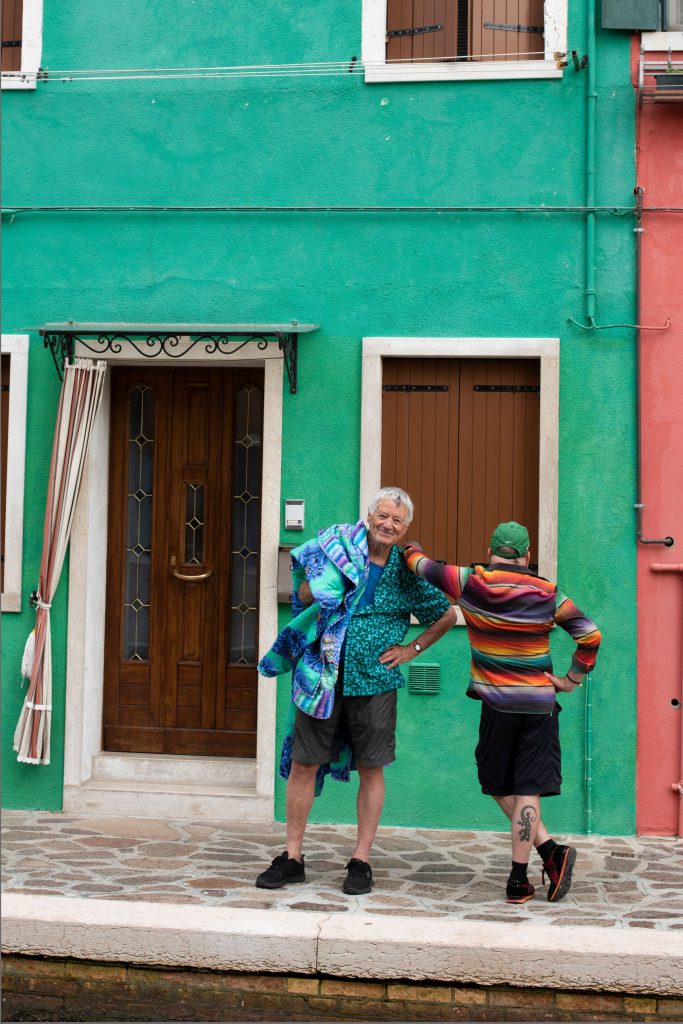 Brandon and Kaffe
at the Kaffe Fassett Studio, London
If you'd like to join us on Facebook under Brandon Mably or Kaffe Fassett Studio you'd be very welcome and on Instagram we're @brandonmably and @kaffefassettstudio.