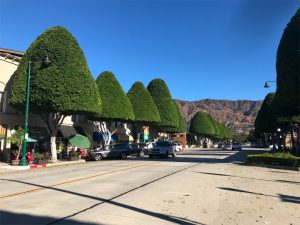 Dear All,
Kaffe and I are just finishing off a very successful workshop and lecture tour in the US, visiting patchwork shops from Southern California to Northern Idaho to Tennessee and New York State arranged by Westminster Fibers. Each shop on the way filled us with delight, starting the tour with a quick visit to the farmers market in Seattle right on the water's edge and the staggeringly beautiful voluptuous bouquets of dahlia's in every conceivable colour arrangement. The glassy lake and pine-covered mountains of Coeur d'Alene, Northern Idaho, then the clear sharp light, lighting the giant cone-shaped trees lining the high street of Glendora, CA. In Cedar Rapids, our highway chain hotel had a contest taking place, which felt surreal with all shapes and ages wearing sci-fi comic-strip outfits, but across the busy traffic lanes, we managed to find a charming community garden, dancing with butterflies, making the whole place feel more human. After a beautiful drive to Arlington Heights, passing through undulating farmland that seemed to roll from one valley to another, we managed to walk by one of the Great Lakes and pop into an art museum before a 350 strong audience for Kaffe's evening lecture. And boy was the Chicago audience ready too! The enthusiasm was elevating.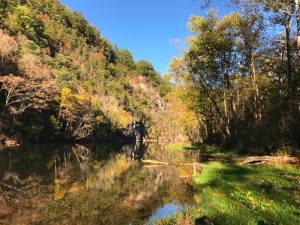 Not forgetting a stop off at Golden, CO, at the base of the Rocky Mountains. Arriving in Nashville felt nostalgic, knowing our friend and fellow designer Anna Maria Horner was just down the road in her shop, Craft South. But before we managed a visit with her, we had a booking with the famous Hancock's of Paducah team. What a warehouse of a place – shopping trolleys at the ready. Also charming to see how untouched with oodles of character Paducah itself is. Having been asked so many time if I'd been there; now I can say "yes I have".
Next stop, a visit with our friends at Tennessee Quilts – always a treat to be back in Tennessee. The landscape is so seductive – rolling landscape only interrupted by mammoth barns painted in shades of dried blood-red colour, often weathered and tatty, adding to their charm.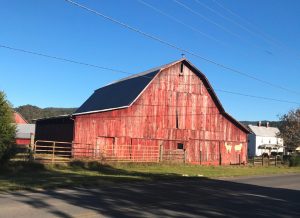 Kaffe and I spent a week with our photographer friend, Debbie Patterson, who flew in from the UK to shoot our next P&Q book. We have chosen the old romantic backdrop of Bucks County in Pennsylvania as our location, with its beautiful old barns, stone walls and atmospheric neighbourhoods of New Hope and the surrounding area for our next collection of quilts.
But really, it's the shop owners who we are so grateful to, for inviting us and supporting our events so well.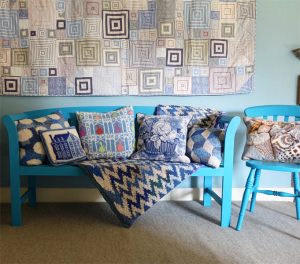 The last week of October, the Patchwork and Quilting world converged on downtown Houston Convention Center, for Houston Quilt market, where we were able to catch up with familiar faces from the fabric world, and talk with shops about my latest collection and the Philip Jacobs designs Kaffe has added his magic to, by re-colouring. These will be released to the shops in early 2018.
Before we headed out on this tour, we opened an exhibition of over 70 pieces of work at Mottisfont Abbey National Trust property, near Winchester, UK which will run until 14th January 2018. View video about the exhibition. The exhibition shop is well stocked with Kaffe Fassett items with the run-up to the Holiday Season.
All this coordinated with the launch of the latest Patchwork and Quilting Book 'Quilts in Ireland'. Plus the release of the 'Sew Artisan' book based on Kaffe's Artisan Collection.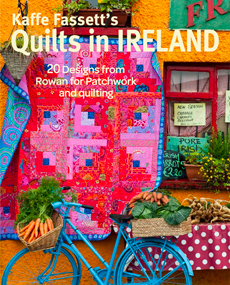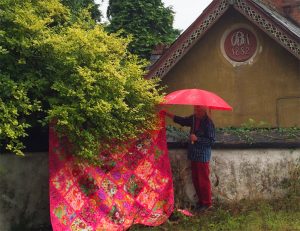 The fall edition of Knitting Magazine featured a classy bold brocade jumper I've designed for the Holiday Season, knitted in Rowan yarns.
Kaffe has a couple of gorgeous, timeless ready-to-wear designs for the Peruvian Connection mail-order magazine too. View all pieces here.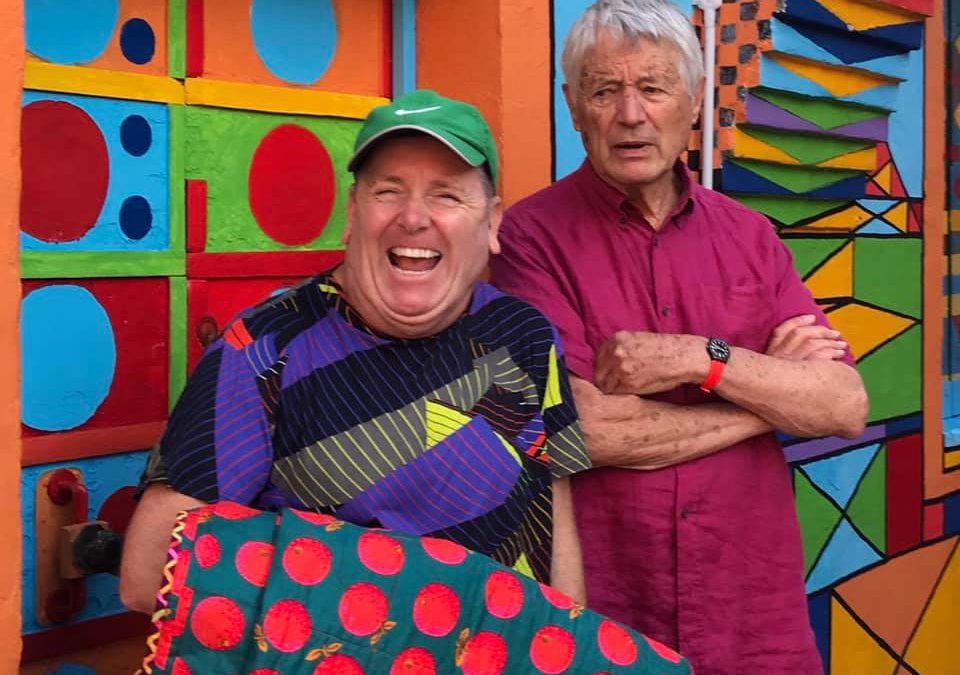 Summer 2020Newsletter I feel lockdown is sort of what open prison might be like. We amuse ourselves with active projects, books, TV, radio, etc. but I really miss my daily visits to the coffee house on the way to my gym.  After some solitary work each day with...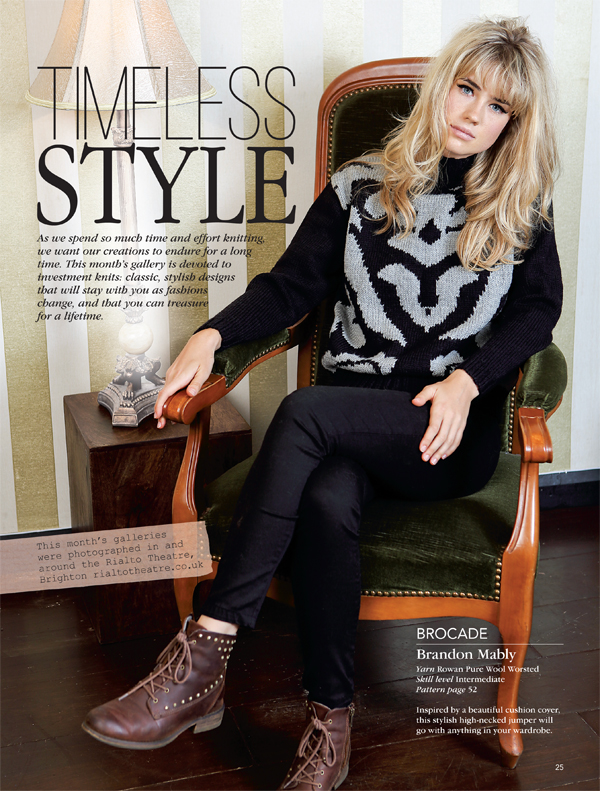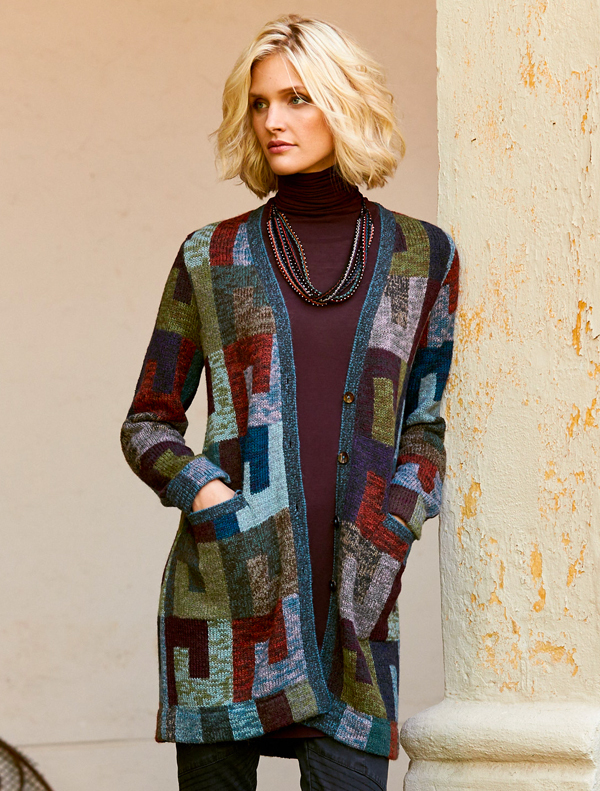 Ehrman Tapestry has launched their latest collection of needlepoint cushion designs with new designs by Kaffe and a couple by myself. Ehrman only operates a mail-order via their website and catalogue – you can download their catalogue from their website as well.

This December Kaffe and I head to China for our first visit to the country to lecture and teach for 10 days. Amazing to think it's taken us this long to go to one of the countries that has fed us with so much inspiration over the years. China is one of the countries Kaffe has most wanted to visit and it's fortuitous we will be there to celebrate Kaffe's 'big' birthday on December 7th too.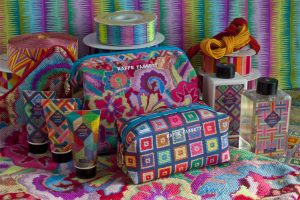 If you're looking for something different for presents, Gossypium, Issaquah and Inspired to Sew, Cider Rapids have brought in Kaffe's fragrance range from the UK, including embossed tin boxes and toiletry bags. To see more on the two ranges we have produced, please take a look at their website here.
Mid-November, I will be at Lady Sew and Sew, Henley on Thames, UK, teaching a one-day Knitting colour class using Fair Isle. Open to all levels passed basic stocking stitch. If you do come along you might be amazed at your results 🙂 See my events page for more info.
Kaffe has his annual visit from Philip Jacobs who brings a selection of artwork for Kaffe to look through and choose from to work with the Kaffe Fassett Collective. Kaffe then takes the artwork and adds his colours to work with the range. And there is nothing Kaffe enjoys more. Philip calls this Kaffe's Christmas. These designs then go to Charlotte, North Carolina, before being sent to Korea to be printed on fabric.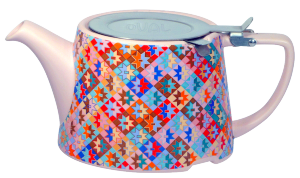 We have a few new collaboration products launching this month: London Pottery will have their range of teapots in six Kaffe designs, available this month. View their website here. Ethical designer AURA QUE is working with Kaffe's Artisan fabric to produce fashion and home accessories with Fairtrade producer groups in Vietnam and Nepal, which are available for preorder now with delivery in early December.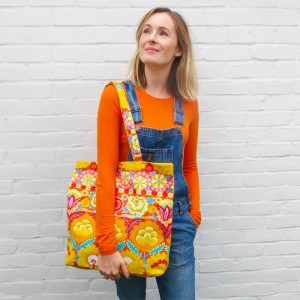 Dates are getting booked into our calendar; please check on our events page for up and coming events. In the meantime, please keep an eye out on Instagram and our facebook pages: Kaffe Fassett Studio and Brandon Mably to receive updates.
All best wishes to you and look forward to catching up when we do
Brandon
Sending all good thoughts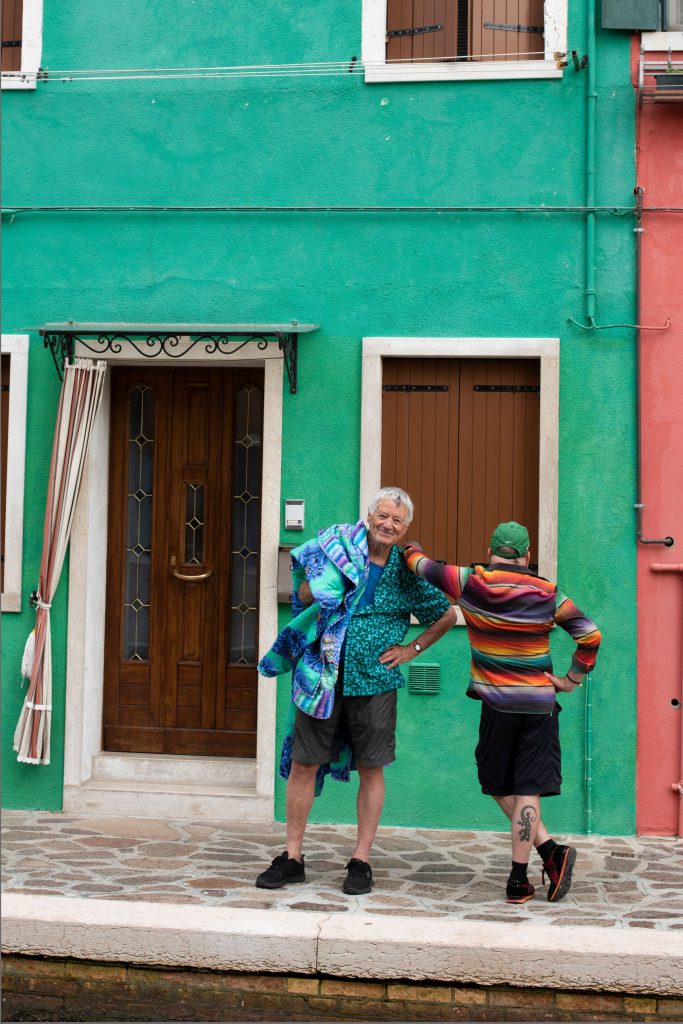 Brandon and Kaffe
at the Kaffe Fassett Studio, London
If you'd like to join us on Facebook under Brandon Mably or Kaffe Fassett Studio you'd be very welcome and on Instagram we're @brandonmably and @kaffefassettstudio.