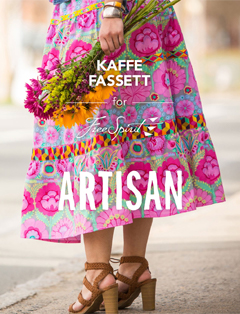 As I'm writing this, a blackbird is outside the window singing its heart out with clear, clear skies. Beautiful!  With this I am delighted to announce that we have launched the new Kaffe Fassett website. With the help of a new studio assistant, Rosie Holman, we are making a more concerted effort with social media. The Facebook groups we had, have been turned over to a Kaffe Fassett Studio page and a Brandon Mably page too. Please hit the LIKE button if you'd like be updated with our posts. The same for Instagram too: you can follow us @kaffefassettstudio / @brandonmably.
Along with the new website, for the first time we are launching a Kaffe Fassett Ebook: Sew Artisan, featuring 14 projects using the Artisan fabrics. Here is a lookbook to give you a teaser. If you'd like to purchase this as an Ebook or paperback (print on demand), then just follow the instructions. Print on demand is available worldwide too.
In April, much to Kaffe's delight, Westminster Fibers will be launching the second colour range in the Artisan fabric collection. The new release will feature Red and Pastel colourways. In the lookbook from Westminster Fibers you can see how we have played with the fabrics.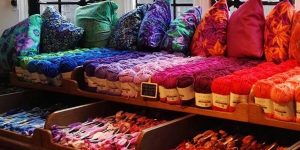 Rowan Yarns commissioned Kaffe to do a colour pallette for a new range of Hand-Knit cotton yarns, along with a series of designs, from throws to garments. These will be available for a limited time only. For more info, contact knitrowan.com
Rowan Yarns have also launched a Knit Along challenge Kaffe derived after being inspired by a multi-patterned tiled floor he saw in a restaurant. knitrowan.com
London Pottery Company have taken a series of Kaffe's fabric designs and printed them on a brand new range of teapots designed by David Birch. These should be available later this year london-pottery.co.uk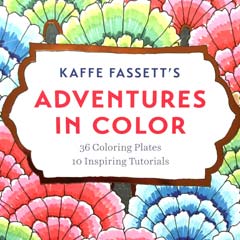 Kaffe's colouring book: Adventures In Color came out in January through Abrams publishers. Abrams were keen on Kaffe adding a bit of his process to the book and the drawings are on framable quality paper if you feel so inclined 🙂
Following on from the 20 foot Christmas tree we decorated for National Trust's Standen House, Kaffe has had an exhibition of his work throughout the house and in the upstairs gallery since January. The exhibition closes on the 23rd April. As a leaving gift to the house, we are donating The Scarlet and Emerald Quilt from Passionate Patchwork. Visitors felt the quilt worked so well in the house, so it will remain in place for all to enjoy.
If you have missed this exhibition, we are planning a major exhibition at National Trust property Mottisfont Abbey in Hampshire, opening September 15th until early January 2018
nationaltrust.org.uk/mottisfont

Ehrman Tapestry has launched new needlepoint designs from both Kaffe and myself ehrmantapestry.com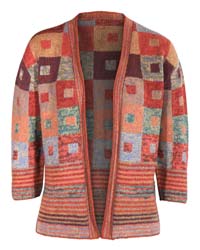 If you're looking for a new knit for your wardrobe, take a look at peruvianconnection.co.uk. Where Kaffe has been working his colour magic in these knitted garments using the exclusive Peruvian Connection yarns.
At present we are looking for distributors for the Kaffe Fassett Beauty ranges. Products are available to mail order kaffefassettfragrance.com
Finally, fabric shops around the world are being shown the latest fabric designs from myself, and the colourways Kaffe has painted for the gorgeous designs by Philip Jacobs, for the Kaffe Fassett Collective.  brandonmably.com
Here is a short video where I explain where the inspiration came from for the designs and how I'd use them vimeo.com/208473389 . One of the highest compliments we, as fabric designers receive, is to see how people play with our designs and make it their own. One ambassador for this is Kim Mclain from Australia, with her extraordinary applique work. You can find one of her latest designs available in pattern form through gloriouscolor.com
Kaffe and Liza Lucy will be joining Amy and David Butler and other special designer guests in Nantes, France with the Quilt Mania Magazine team for their Quilt show. There will be a display of recent works and workshop / lecture too – quiltmania.com/patchwork/pour-l-amour-du-fil-show-ART928818 . In the meantime, I will be hosting 2 knit workshops and a lecture in Coburg, Germany on the 22nd / 23rd April – umgarnt.de
For Lectures in London this summertime, Kaffe will be the guest lecturer at the prestigious Heritage Crafts Association weekend held in central London on Saturday 6th May 2017 heritagecrafts.org.uk/ . I will also be giving an evening lecture at Black Sheep, Warrington in July too. Please keep an eye on our events page for more up-and-coming events. Dates for Fall tours of the USA will be posted on the website as they come in, catch us if you can. J Venues to be confirmed are Tennesse Quilts and Hancocks of Paduca, with more to follow, ending the tour at Golden Quilt Company CO at the beginning of November – though do book early!
I hope that you enjoy navigating your way around the new Kaffe Fassett website. We will endeavor to up date and build it as we go along.
Sent with all good wishes to you and blessings for the new seasons.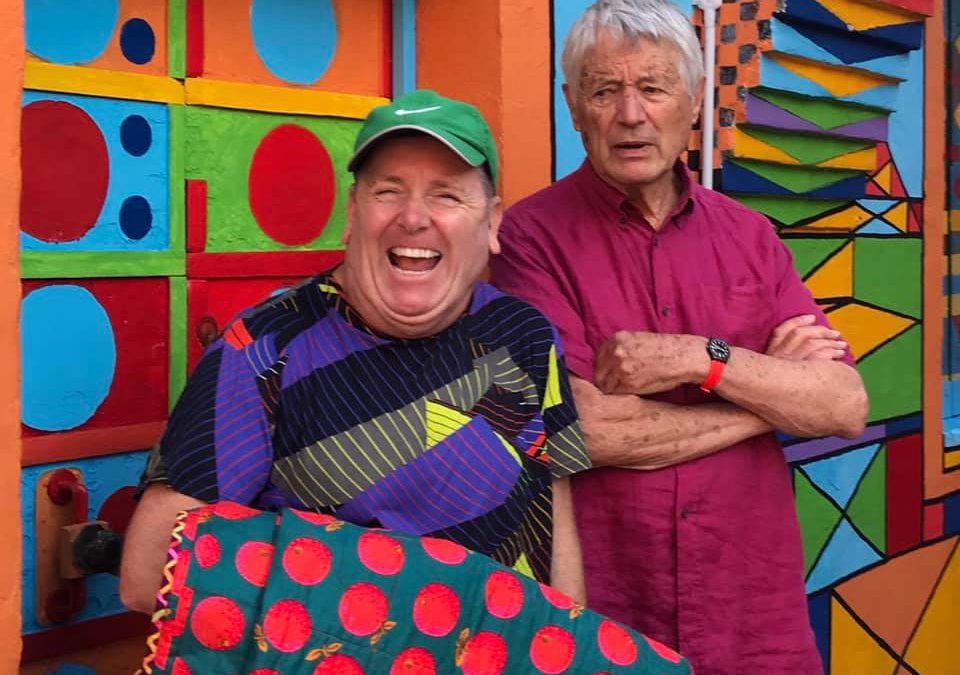 Summer 2020Newsletter I feel lockdown is sort of what open prison might be like. We amuse ourselves with active projects, books, TV, radio, etc. but I really miss my daily visits to the coffee house on the way to my gym.  After some solitary work each day with...
Sending all good thoughts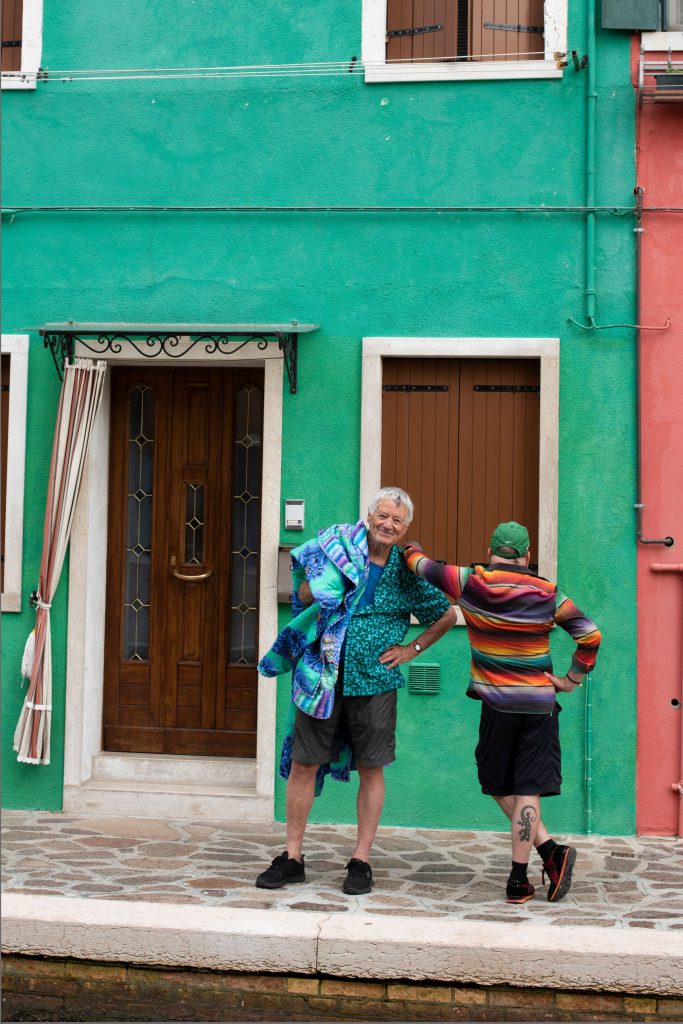 Brandon and Kaffe
at the Kaffe Fassett Studio, London
If you'd like to join us on Facebook under Brandon Mably or Kaffe Fassett Studio you'd be very welcome and on Instagram we're @brandonmably and @kaffefassettstudio.